This year's contest, celebrating the centenary of its famous namesake, takes place in London during April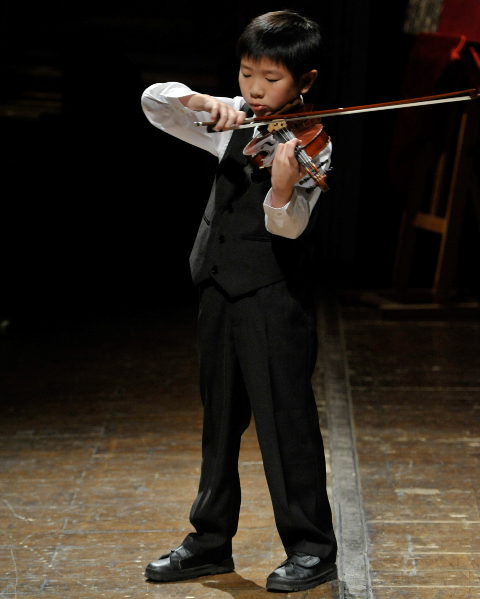 The Menuhin Competition 2016 has announced the 44 shortlisted violinists who will compete for its top Junior and Senior prizes in London during April. Of particular interest is the number of female contestants in the running – of the 44 selected, 36 are girls. In the Junior section for under-16s, seven boys will compete against 15 girls, while in the Senior section for under-22s, just one boy will compete against 21 girls.
'I celebrate the fact that gender is no longer an issue in the world of violinists,' said 2016 juror Tamsin Little. 'I know my mentor Menuhin would also be delighted as, for him, the most important thing was always the music and the musician, and never their gender, colour, creed or nationality.'
Among the violinists are several former competition winners, including 10-year-old Samuel Tan (pictured), this year's youngest competitor, who won the Postacchini Prize at the 21st International Andrea Postacchini Violin Competition in Fermo, Italy at the age of nine. Also competing is 16-year-old Ziyu He, winner of the 2014 Eurovision Young Musicians competition in Cologne, Germany, and 20-year-old Youjin Lee, who won first prize at the Irving M. Klein International String Competition in San Francisco in 2013.
The full list of candidates is:
Junior
Olivia Chen, 13, USA
Elli Choi, 14, USA
Alexandra Cooreman, 13, Belgium/Poland
Johan Dalene, 15, Sweden
Marley Erickson, 12, USA
Kristina Georgieva, 14, Bulgaria
Klara Gronet, 15, Poland
Ria Honda, 15, Japan
Antoni Ingielewicz, 14, Poland
Yeyeong Jin, 12, South Korea
NaKyung Kang, 12, South Korea
Byeol Kim, 15, South Korea
Anne Luisa Kramb, 15, Germany
EunSeo Lee, 14, South Korea
Yesong Sophie Lee, 12, USA
Hina Maeda, 13, Japan
Kevin Miura, 13, USA/Japan
Mahiru Moriyama, 15, Japan
Michael Rosborg Germer, 13, Denmark
Takumi Taguchi, 14, USA/Japan
Samuel Tan, 10, Singapore
Coco Tomita, 13, Japan
Senior
Merve Birbir, 18, Turkey
Qing Yu Chen, 15, USA
Yu-Ting Chen, 20, Taiwan
SongHa Choi, 16, South Korea
Asako Fukuda, 19, Japan
Molin Han, 15, China
Ziyu He, 16, China
Ariel Horowitz, 19, USA
Do Gyung (Anna) Im, 18, South Korea
Yookyung Kang, 19, South Korea
Jeein Kim, 20, South Korea
Marie Isabel Kropfitsch, 19, Austria
Nan Joo Lee, 20, South Korea
Yoojin Lee, 17, South Korea
Youjin Lee, 20, South Korea
HyunJae Lim, 18, South Korea
Mathilde Milwidsky, 21, UK
Juliette Roos, 20, UK
Louisa Staples, 15, UK
Kelly Talim, 20, USA
Belle Ting, 15, Taiwan/Canada
Eva Zavaro, 20, France
The biennial Menuhin Competition this year takes place from 7-17 April at London's Royal Academy of Music. The contest received 307 entries for 2016 – an increase of 9 per cent on 2014 – from Europe, North America, Asia, Africa and Australia.
This year's jury comprises former laureates Julia Fischer, Ray Chen, Tasmin Little, Ning Feng and Joji Hattori, in addition to pianist Jeremy Menuhin, Korean violinist Dong-Suk Kang, director of the Verbier Festival Martin Engstroem and jury chair Pamela Frank.
As 2016 marks Yehudi Menuhin's 100th anniversary, the competition repertoire will include works particularly associated with the violinist, including Bartók's Solo Sonata written for Menuhin in 1944, and music by his mentor George Enescu.
The 2014 Menuhin Competition Senior Division was won by Stephen Waarts, while Rennosuke Fukuda triumphed in the Junior Division.
Visit the Menuhin Competition website for full details.