This year's contest, celebrating the centenary of its famous namesake, takes place in London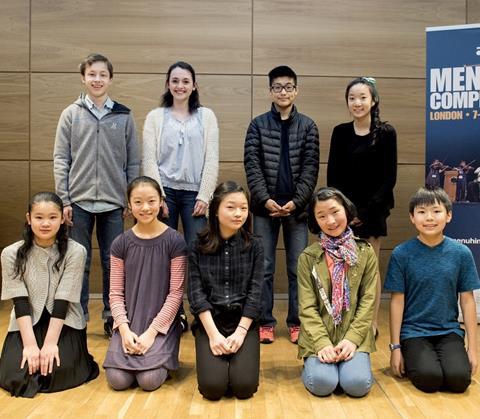 The Menuhin Competition 2016 has revealed the 10 candidates selected to progress to the Junior Semi-Finals, taking place at London's Royal Academy of Music tomorrow.
Each of the 10 violinists, aged between 11 and 15, will perform their choice of Beethoven Sonata and a virtuoso work. They will also collaborate with professional musicians in Dvorák's Terzetto in C for two violins and viola.
Among the remaining Junior competitors is 11-year-old Samuel Tan, this year's youngest performer, who won the Postacchini Prize at the 21st International Andrea Postacchini Violin Competition in Fermo, Italy at the age of nine.
The 10 Junior Semi-Finalists are:
Johan Dalene, 15, Sweden
Takumi Taguchi, 14, USA/Japan
Samuel Tan, 11, Singapore
Kevin Miura, 13, USA/Japan
Yeyeong Jin, 12, South Korea
Anne Luisa Kramb, 15, Germany
Yesong Sophie Lee, 12, USA
Hina Maeda, 13, Japan
Elli Choi, 14, USA
NaKyung Kang, 12, South Korea
The Menuhin Competition Senior First Rounds are taking place today and the Senior Semi-Finalists will be announced this afternoon.
The biennial Menuhin Competition, this year marking Menuhin's 100th anniversary, takes place from 7-17 April in London. The 2016 jury comprises former laureates Julia Fischer, Ray Chen, Tasmin Little, Ning Feng and Joji Hattori, in addition to pianist Jeremy Menuhin, Korean violinist Dong-Suk Kang, director of the Verbier Festival Martin Engstroem and jury chair Pamela Frank.
The 2014 Menuhin Competition Senior Division was won by Stephen Waarts, while Rennosuke Fukuda triumphed in the Junior Division.
Visit the Menuhin Competition website for full details.
Read: Menuhin Competition 2016 names 44 shortlisted violinists in a list dominated by females