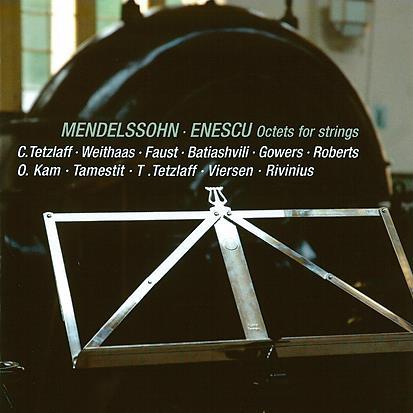 The Strad Issue: January 2009
Musicians: Christian Tetzlaff*† , Isabelle Faust*† , Lisa Batiashvili*† , Antje Weithaas*, Katherine Gowers† (violin), Rachel Roberts*† , Ori Kam*, Antoine Tamestit† (viola), Tanja Tetzlaff*, Quirine Viersen*† , Gustav Rivinius† (cello)
Composer: Mendelssohn, Enescu
The exultant, virtuoso spirit of Mendelssohn's Octet comes surging off the page in this all-star live performance, captured in richly detailed, weighty sound. Even compared to my benchmarks in this glorious work – Hausmusik on original instruments (Virgin) and the Brandis and Westphal quartets (Deutsche Grammophon) – there is an engaging vitality and sense of inspiration caught on the wing from Tetzlaff and colleagues that is just that extra bit special. Tetzlaff slightly rushes his opening phrase and I would have preferred a little more dramatic signalling from the four big chords that set up the exposition's and recapitulation's codetta in the first movement, but in every other way this is a captivating performance, with a ravishingly shaped slow movement guaranteed to pull at even the most resistant heartstrings.
Enescu's Octet is also the product of teenage genius, and while it may not possess the instant melodic appeal of the Mendelssohn, it is an immaculately crafted, impassioned work that tantalisingly fuses the post-Wagnerian ecstasy of early Schonberg with the enigmatic 'cool' of Debussy. Readers with broadband should certainly investigate the fine Camerata Lysy performance currently on YouTube. However, the ripely expressive, urgently spontaneous and masterfully played account from Avi's remarkable line-up is quite simply in a class of its own.



JULIAN HAYLOCK