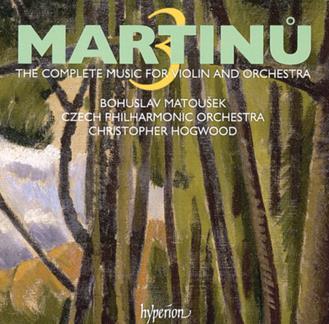 The Strad Issue: January 2008
Musicians: Bohuslav Matoušek (violin), Karel Košárek (piano) Czech Philharmonic Orchestra, Christopher Hogwood (conductor)
Composer: Martinu
Bohuslav Matoušek will be no stranger to those who have collected Supraphon's invaluable series of Martinu's music for violin and piano. For many years he was the leader of the famous Stamic Quartet, and is now concentrating on a solo career, here adding his insight into the composer in Hyperion's second volume of Martinu's works for violin and orchestra.
The composer had fled to the safety of the United States by the time he began writing the Concerto de camera (1941). Concentrating on work in his new surroundings at first proved difficult, though the eventual score is heavily laced with those pungent harmonies that had become his trademark. It is very different when compared with the moments of angst that appear in the later Concerto for violin, piano and orchestra (1953), written in the wake of the Communist takeover of his native Czechoslovakia. Between these two pieces came the Czech Rhapsody of 1945, in which nostalgia and bubbling happiness are the prevailing moods.
Having started life as a violinist, Martinu wrote well for the instrument. Matoušek enjoys a distinctly concertante approach to the Concerto de camera, only at the appropriate moments stepping into the soloist's role. In the double concerto, the keyboard has the higher profile, with the violin acting as a decorative voice. Matoušek revels in the technical demands of the Czech Rhapsody and caresses its long flowing melodies with considerable beauty. Karel Košárek is the excellent pianist, and the Czech Philharmonic is well versed in Martinu's personalised tonal qualities.
DAVID DENTON