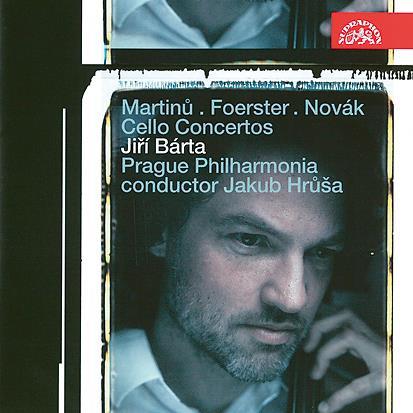 The Strad Issue: January 2009
Musicians: Ji?í Bárta (cello) Prague Philharmonia/Jakub Hr?ša
Composer: Martinu, Foerster, Novák
Apart from three sensational performances, the heroes here are Supraphon's superb engineers: listen to how in the Foerster the soloist, accompanying solo strings and woodwind snippets are separately miked, so as to produce gossamer-like contrasts.
A shade younger than Dvo?ák, Josef Bohuslav Foerster lived into his 90s. His 1931 concerto has a melodic brilliance and a Hollywood-like rhapsodic aura akin to Korngold or Rózsa, hallowed by gorgeous playing from Ji?í Bárta, a pupil of Prague Conservatoire legends Josef Chuchro and Mirko Škampa.
Bárta's bowing, exquisite phrasing, feel for dynamic, rhythmic nuancing are all superb. Praise is also due for this top-class young orchestra under Jakub Hr?ša, now a key figure at Glyndebourne Opera.
Martinu's First Concerto has been widely recorded, though not so often in this revised version of 1955. Its angelic and beatific Andante, suggesting Honegger (and, later, Wagner), is exhilaratingly played. Jan Novák (1921–84), a Martinu pupil ousted by the Soviets, was a neo-Classicist–modernist versed in Stravinsky and jazz: Kurt Weill, Martinu and New Orleans all meet in his opening. It's terrific fun, especially Bárta's unearthly trillings and ethereal twitterings over double bass, brushed percussion and jazzy clarinet, and his later sly pizzicato in Novák's eerily sidling Andante. The folksily double-stopped finale is a glorious big-band free-for-all.



Roderic Dunnett