Constructing a double bass brings with it challenges of design and method, size and sound, cost and travel – as experienced German-based British luthier Roger Hargrave found when making his first bass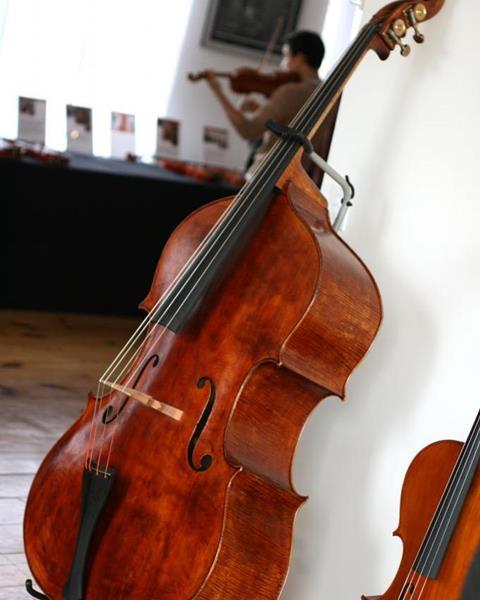 Although I have always felt it incumbent on violin makers to construct a bass, at some time in their career, like most violin makers I pushed such thoughts to the back of my mind, where I hoped it would be forgotten entirely, or I would mercifully die before the request came. I use the word construct knowingly. It implies plans and assembly rather than design and creativity.
Basses are the half-forgotten, half-cousin of the violin family; overly large, embarrassingly cumbersome and badly mistreated. They don't even warrant a decent gag, as the ones we hear are usually second hand viola jokes. Basses that have survived from classical times are extraordinarily rare. They are also generally badly damaged and badly repaired. There are a handful of exceptions, some of which I have been privileged to examine, but it was a chance encounter with a photograph of a Hieronymus Amati II bass sound-hole, which made me take basses far more seriously.
At the age of 60 I decided to give up making cellos. Unless you are using machines, which I abhor, making cellos is physically just too much hard work. Add to this the materials; at least two violins and two violas, and the time; probably five violins, and the sums just don't add up. Realistically, violinists and violists had always supported the one or two cellos that I made each year; so why the bass?
My first mistake was to purchase two irresistibly beautiful sets of bass wood, I happened to see in the back of a wood dealer's truck. This was some time in the early 1990s. At that same time I was working with Duane Rosengard on the Biddulph Guarneri book. Duane, who plays bass in the Philadelphia Orchestra, kept badgering me about making a copy of his Ceruti bass. The next step occurred more recently when I was asked to judge basses at the Violin Society of America competition. These basses were inspirational. The final kick came when my friend, the bass maker, René Zaal, finally showed me the complete Hieronymus Amati II bass. Being a lifelong Amati fan, it blew me away.
So in my 66th year I began a copy of this Amati bass with René Zaal and in spite of the many difficulties it raised, it became one of the most fascinating projects of my career. With my usual condescending arrogance, I somehow felt that making a truly fine bass, can and should only be achieved by violin makers who have accumulated considerable expertise, having already created several hundred violins violas and cellos. However, although my fascination with Amati designs and methods were certainly a tremendous help, I was shocked by the complex nature of the task and the wonderful challenges it presented. Fortunately René has made dozens of hand-made basses, and with good humour we were able to combine our years of experience to create something of which we are both immensely proud.
The first task was to copy all the necessary outlines and measurements and create templates and forms from them. In spite of the scale this proved easier than I thought. The basic rules that apply for the design and construction of any Amati violin also apply to any Amati viola, cello or bass. This made reconstructing the various damaged or missing parts comparatively easy. For example as with any Amati violin, the central bout outline of this bass form part of a perfect ellipse. Knowing this helped us to reconstruct all eight of the badly worn or missing corners. A plaster cast of an Amati cello head also served as a muster for the missing bass head.
Apart from the designs, the method of construction we employed was also based upon the Amati (Cremonese) method. The ribs (sides) were assembled around an inside mold, while the head and sound-holes were marked and cut out in the Amati manner. Although in some ways I felt as if I was flying by the seat of my pants, the reassuring presence of Rene and my confidence in the Amati system, provided both comfort and support; rather like a pair of Marks & Spencer underpants.
Since making the bass I have finally discovered the major difference between a bass and the rest of the violin family. It is not the design or the method. It is not size or sound. It is not value for money, although this certainly comes close and whoever gets this instrument will be getting a genuine bargain. No, the major difference is travelling. Transporting a bass places all other problems in the shade. It began with carrying the various parts, mould, templates and designs back and forth between North Germany and Holland. We made this 800 kilometre round trip nine times; 7,000 kilometres; more than the distance between Bremen and New York. These days the physical and mental stress of travelling either by road, rail, or, horror of all horrors, in an aircraft is difficult enough, but doing this with a bass takes the last remaining chocolate digestive biscuit. On completion the bass was shown at Julie Reed-Yeboah's shop on Broadway. Leaving aside the customs problems, which we all face when exporting any instrument, travelling with a bass, in a 35 kilogram flight case, really is a test of anyone's temperament, and over a period of five days I came very close to losing the plot altogether.
I refer anyone wishing to read the saga about making and travelling with this bass to my unedited blog. This blog covers the design, making, varnishing, finishing and travelling in some considerable detail. There are more than 300 photographs and 44,000 words, including questions and answers about the process. There have been more than 83,000 hits on this blog. Who says basses aren't interesting?
Watch double bassist Jason Sypher playing Roger Hargrave and René Zaal's newly-made bass below:
The Strad's February 2014 double bass special issue is on sale now. Subscribe to The Strad or download our digital edition as part of a 30-day free trial. To purchase single print issues click here or for single digital issues click here.