The Strad's 2021 Calendar celebrates the work of Dextra Musica, the Norwegian foundation that has built up a fine collection of historical and contemporary instruments over the past 15 years. All the instruments are in daily use, being loaned out both to top soloists and to up-and-coming young players. Some of the treasures include Stradivari's golden-period 'Rivaz, Baron Gutmann' violin, now played by Eldbjørg Hemsing, the 1744 Guarneri 'del Gesù' used by Henning Kraggerud, and the 1783 Guadagnini cello once owned by Rostropovich, which was sold for a record £1.93 million in 2018.
Nicolas Lupot cello 1823
Nicolas Lupot is an immensely important figure not only in the history of violin making in France, but throughout the craft in its post-classical period. Born in Stuttgart in 1758 he was established in Paris in 1794 and well placed to benefit from the following Napoleonic period. He was fully appreciative of the great Cremonese instruments which were already in Paris, and flowed there in increasing numbers. He was among the first to make careful copies, noting important elements of construction and form, rather than continuing in a localised or provincial tradition like that of the Stuttgart workshop in which he started his career.
The cello in the Dextra Musica collection is a beautifully preserved example, closely modelled on the definitive 'B' form, developed by Stradivari in 1707, and made in the penultimate year of his life; he died in 1824 aged 66. The cello nevertheless is a wonderful piece of controlled craftsmanship, and bears his personal signature on the inner surface of the back. It is made from choice materials, well matched throughout, and is entirely covered with original and undisturbed varnish, which shows a rich surface craquelure.
Order your copy of The Strad Calendar 2021 today!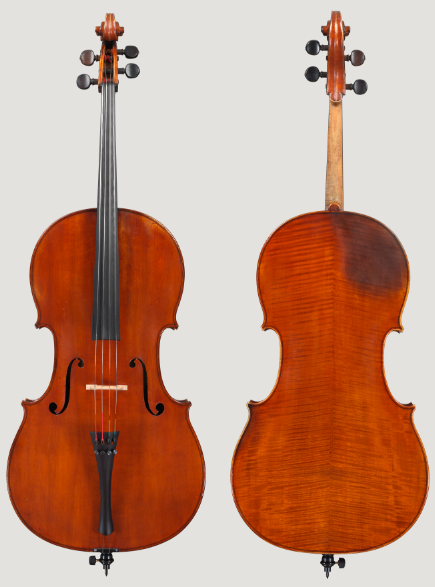 Photos: Richard Valencia