When a cello suffered a calamitous hand sanitiser accident, it looked irreparable at first sight. John Simmers explains how he restored it to the way it was pre-Covid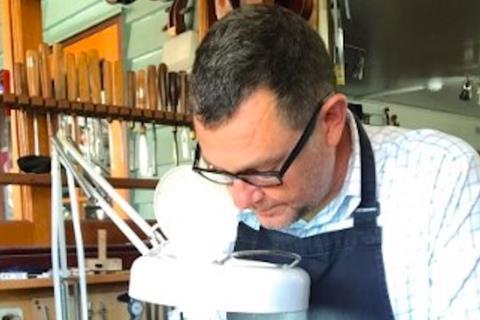 The following extract is from The Strad's May issue Making Matters feature. To read it in full, click here to subscribe and login. The May 2021 digital magazine and print edition are on sale now
Last October I received a text message from a friend that contained a rather disturbing photo of a cello with badly damaged varnish. My initial response to the damage I saw was 'Whoa – I don't want anything to do with sorting that out!' As it turned out, I knew the cello and its owner quite well and for a number of reasons I couldn't help becoming involved. It transpired that during a rehearsal, while the cello was sitting on the floor, a fellow musician had unknowingly bumped a bottle of hand sanitiser on a nearby table. Somehow the sanitiser splattered on to the front of the cello, making a large area of the lower bout resemble something from a crime scene. When the cellist returned minutes later, he noticed all the white marks on the cello and realised what had happened.
Read Making Matters: A cautionary tale for our times
Read Cello varnish badly damaged in calamitous hand sanitiser spill
When I saw this early 20th-century cello for the first time, I could see its beautiful, thick and finely crackled orange varnish had been heavily French-polished over the years. The polish had moved with the underlying varnish over time and presented very well. Although I am not a fan of French-polishing instruments, on this cello it had helped preserve the original varnish underneath. The strong alcohol concentration in the sanitiser very quickly dissolved the layer of polish, leaving a hard transition from the thick polish to original varnish and an exaggerated crackled texture in the original film. The good news was that the precious original varnish was mostly undamaged, so the problem was mainly cosmetic.
This article was published in the May 2021 Julian Lloyd Webber issue

The British cellist celebrates his 70th birthday by looking back over a long and rewarding career. Explore all the articles in this issue

More from this issue…