Descended from a long line of French luthiers, Millant produced bows based on his own design and was the author of the definitive book on French bows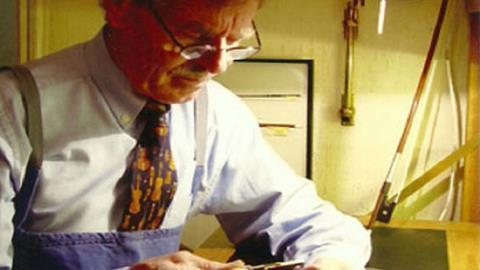 Renowned bow maker, luthier and author Bernard Millant has died at the age of 87. Born in 1929, he was descended from a long line of French luthiers - his father was violin maker Max Stanislas Millant and his grandfather, Sébastien-Auguste Deroux, was a well-established luthier at Mirecourt during the late 19th and early 20th centuries
After building his first violin at the age of 13, Millant began his apprenticeship in 1946 with Amédée Dieudonné at Mirecourt, before joining the Morizot Brothers' workshop in 1948 to study bow making. In 1949, he travelled to the US to join the workshop of Lazare Rudié in New York, where he met dealers Jacques Francais and Rembert Wurlitzer.
Millant returned to Paris in 1950 and established his own workshop at 56 Rue de Rome, just a few doors down from the premises of his father and uncle, Roger Millant. Here he began to produce bows, based on his own design, which combined elements of the Peccatte and Hill schools. All of Millant's bows bear the inscription 'Bernard Millant Paris' and their year of completion on the underslide.
Millant later became a sought-after valuator and, alongside his apprentice Jean-Francois Raffin, wrote the definitive book on French bows between 1996 and 2000 - the two-volume 'L'Archet, A History of French Bow Making'.
In 1989 Millant passed his business on to Loïc and Verena Le Canu, former employees of Max Möller who, like Millant, apprenticed under Amédée Dieudonné. The Le Canu-Millant workshop continues to produce violins and bows, undertake restoration work and offer consultations to this day.