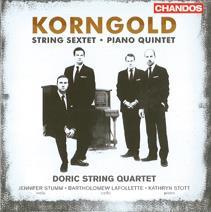 The Strad Issue: January 2011
Musicians: Vadim Gluzman (violin) The Hague Residentie Orchestra/Neeme Järvi
Composer: Korngold, Dvarionas
Vadim Gluzman brings a joyously unaffected approach to Korngold's Violin Concerto of 1945. His tone from the start is virile and his articulation pointed rather than over-sugared, and even the opening theme of the slow movement sounds tender rather than sentimental. The film-score origins of the music for this work are well known, but Gluzman, aided by Neeme Järvi's long experience of mid-20th-century repertoire, is more concerned with exposing its place as a last gasp of European Romanticism rather than a Hollywoodised, souped-up memory of glories past.
The Violin Concerto of Lithuanian composer Balys Dvarionas (1904–72) was written in 1948, yet this conservative product of Soviet-era kowtowing in the manner of late Glière or Glazunov makes Korngold seem avant-garde by his side – amazing to think Shostakovich's gritty First Violin Concerto is an exact contemporary. Here a 19th-century folky idiom rules, with just glints of a language more of its time. Nevertheless, Gluzman plays the work with enormous panache (it was written for Oistrakh pupil Alexander Livont), responds winningly to its showier aspects and charms us into thinking that it's a better work than it is. He also brings a subtle bow to the more plangent Elegy of 1946–7. BIS's recording is excellent.


Matthew Rye