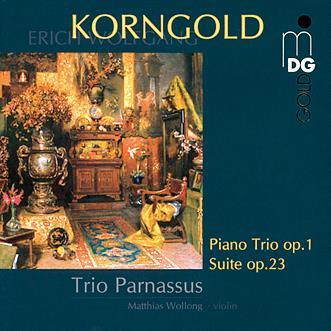 Musicians: Trio Parnassus, Matthias Wollong (violin)*
Composer: Korngold
The progress of Erich Korngold (1897–1957) from Viennese child prodigy to Hollywood golden-age film composer is remarkable. Yet his 'serious' output spanned all this period, soaring to new heights with his violin and cello concertos.
Many other works attest to Korngold's formidable gifts as a writer for strings. Both works here, splendidly recorded in a beneficial acoustic, are worth exploring. He wrote the Piano Trio op.1 (1910) when he was 12 (not 13, as stated here), after taking lessons for two years with Zemlinsky. The achievement is astonishing. Korngold treats both outer movements with gusto, getting just a little too thick-textured as he probes daring, lush harmonies that outdo Strauss and Reger. His more ascetic contemporary, Ernst Krenek, talked of Korngold's 'gushing effervescence', but that rarely feels the case here.
The Trio Parnassus's playing is equally impressive in the bustling Scherzo and gorgeously wafting trio, although the musicians could have found more logic in the meandering Larghetto, with its Rachmaninoff-like piano figurations.
Where this ensemble really triumphs is in the five-movement Suite (1930), once its rather too stolid introductory Prelude and Fugue is out of the way. The brilliantly played Waltz is darkly mysterious, almost ghoulish: it comes across like eerie, broken-up fragments of Der Rosenkavalier: Strauss reworked as Schoenberg. The movement entitled 'Groteske' scampers like Tom and Jerry, with Slavic folk harmonies (Korngold was born in Moravia). The 'Lied', an exquisite cantilena for violinist Yamei Yu, could be from Dvo?rák's American period. The polished Rondo-finale, a sort of mini sonata–cum–devilish–fugal–Scherzo, is tripped off with flair.


Roderic Dunnett