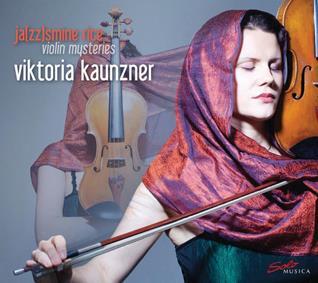 The Strad Issue: August 2015
Description: An unconventional album from a violinist with a questing mind
Musicians: Viktoria Kaunzner (violin) Veit Hertenstein (viola) Sorin Creciun, Roman Salyutov, Wonsun Choi (piano)
Composer: Bach, Dinescu, Meyer, Kaunzner, Schnyder
This album collects together recordings made over several years by South Korea-based German violinist Viktoria Kaunzner: a set of works by three living composers, pieces and improvisations by Kaunzner herself, and, in a very different vein, the Chaconne from Bach's Second Partita. The implied Eastern and jazz influences of the recording's title permeate through to some of the music here but there is no single narrative thread (the zany booklet notes by Kaunzner – including an imagined interview with Bach – reveal an unconventional mind).
Her chosen music ranges far and wide stylistically, from a bluesy four-movement work for solo violin by Swiss composer–saxophonist Daniel Schnyder to a stringent, rather haunting movement for violin and piano by Polish composer Krzysztof Meyer and a demanding, skittish work by Violeta Dinescu. Kaunzner's own compositions widen the scope further. For example, Wintersonnenwende for violin, viola and twelve speaking voices is a beautiful set of miniature duets interspersed with readings of Japanese haiku.
Holding together these disparate parts is Kaunzner's fearless playing and bell-like tone, and the reverberant sound of the recordings. Despite some blunt phrasing, her performance of the Chaconne has body and depth – though, for all its universality, it does not fit easily into this programme.
Tim Woodall