With a top prize of €25,000, the competition is currently taking place in Finland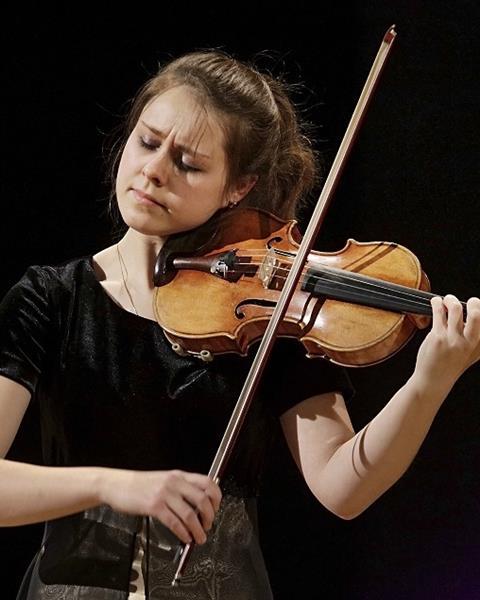 The finalists of the 11th International Jean Sibelius Violin Competition have been announced in Helsinki. The six remaining candidates will perform both the Sibelius Concerto and another large-scale concerto with the Helsinki Philharmonic Orchestra and the Finnish Radio Symphony Orchestra over the next three days. The winner, who receives €25,000, will be announced on Thursday 3 December.
Whittled down from 234 entries from 29 countries, the finalists are:
Friederike Starkloff, Germany (pictured)
Emmanuel Tjeknavorian, Austria
Minami Yoshida, Japan
Nancy Zhou, USA
Mayumi Kanagawa, USA
Christel Lee, USA
Each of this year's finalists has gained considerable success in recent years: Friederike Starkloff, was recently appointed concertmaster of the NDR Radiophilharmonie in Hannover; Emmanuel Tjeknavorian won third prize at the International Fritz Kreisler Competition in 2014; Minami Yoshida was a senior semi-finalist at the 2014 Menuhin Competition in Austin; Nancy Zhou received a special prize at the International Violin Competition of Indianapolis in 2014 and was a semi-finalist at the 2015 Joseph Joachim International Violin Competition Hannover; Mayumi Kanagawa won the 2013 Heifetz Competition in Vilnius and the 2011 Irving M. Klein International String Competition in San Francisco; and Christel Lee won second prize at the ARD Music Competition in Munich in 2013.
This year's Sibelius Competition jury comprises Pierre Amoyal, Serguei Azizian, Sigrún Edvaldsdóttir, Pekka Kauppinen, Sung-Ju Lee, Cho-Liang Lin, Gerhard Schulz and Krzysztof Wegrzyn.
The 10th Sibelius Violin Competition in 2010 was won by Nikita Boriso-Glebsky.
For full details visit the Sibelius Competition website.