For their new release the players of the Chiaroscuro Quartet have put their gut strings and period bows to work on Haydn's kaleidoscopic op.20 'Sun' quartets - the second of two recordings. Helen Wallace meets the musicians during rehearsals.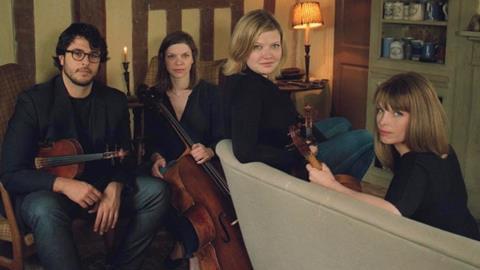 The following article is published as part of a larger cover feature on the Chiaroscuro Quartet in The Strad's July 2017 issue, out now – download on desktop computer or through The Strad App.
'[In his 'Sun' quartets] Haydn took the trio sonata and developed it into a real four-voice form,' says Chiaroscuro cellist Claire Thirion. 'Before that, the cello was the bass-line and the viola could almost have been third violin, or second cello. In these quartets the cello begins to be a truly melodic instrument.'
First violinist Alina Ibragimova continues: 'Somehow, Haydn is unpredictable all the time. Mozart can be mischievous, but he sets it all up nicely – there's a sense of theatre; but with Haydn, if you are not absolutely familiar with his language, he can really throw you. It's quite edgy. Sometimes in concerts I used to feel quite tense – just the number of ideas in every bar, and you still have to make it sound spontaneous.'
What of the ambivalent relationship audiences have with Haydn, who seems still to provoke and puzzle, whereas Mozart seduces? 'Perhaps Mozart offers more melody,' suggests Ibragimova. 'But I actually think the reason is rather more straightforward: so much of Haydn's music is unknown. I've talked to many great musicians who don't actually know any of it. Haydn wrote such a lot. Imagine if Beethoven had written eight violin concertos, instead of one – we probably wouldn't know all of them very well either.'
To read the full interview the Chiaroscuro Quartet, download The Strad's July 2017 issue on desktop computer or through The Strad App.
Watch: Chiaroscuro Quartet and pianist Kristian Bezuidenhout perform Mozart
Photo: Eva Vermandel