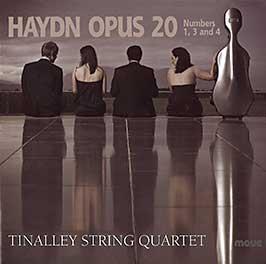 THE STRAD RECOMMENDS
The Strad Issue: January 2014
Description: Refreshing accounts of early Haydn from a prize-winning ensemble
Musicians: Tinalley Quartet
Composer: Haydn
This recording opportunity formed part of the Australian Tinalley Quartet's first prize in the ninth International Banff String Quartet Competition (2007). For various reasons the end product, captured in 2011, has taken an age to reach the catalogue, but the wait has been worthwhile.
These performances are technically assured, warm-toned, beautifully blended and ideally balanced. The Tinalley's approach to articulation is especially striking: the players separate some notes that are normally syncopated in the finale of no.1 and ignore much 'traditional' slurring. They characterise Haydn's differing moods with sharp insights (especially in the cheeky finale of no.4), relish his developing dramatic language, occasionally add ornamentation in repeats, and make telling use of silence as an expressive device (finale of no.3). They draw full value from his digressions to remote keys and his excursion into folk music (in no.4's extrovert Menuetto alla zingarese) and communicate detail vividly, yet bring to the music breadth, control and cohesiveness (as in the Affettuoso of no.1).
Closely recorded in an intimate ambience – but with first violinist Adam Chalabi's distracting sniffing clearly audible – these readings should demand attention, but they enter a crowded market. The Mosaïques Quartet, for example, arguably probes even more deeply below the music's surface. A promising debut disc, nonetheless.
Sound clip: Haydn's String Quartet op.20 no.3
Robin Stowell