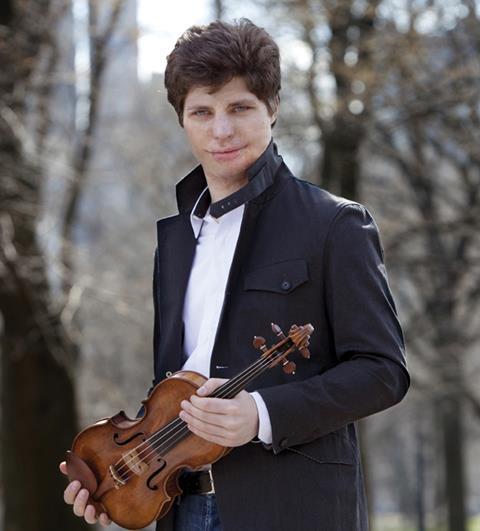 The nominations for the 58th annual Grammy Awards were announced on 7 December. In the classical categories, the Seattle Symphony received three nominations for its recording of Dutilleux's Métaboles, Symphony no. 2 'Le double', and the violin concerto L'arbre des songes featuring Augustin Hadelich (pictured). Hadelich, who was recently announced as the winner of the $100,000 Warner Music Prize, was personally nominated in the Best Classical Instrumental Solo category.
The album was also nominated for Best Orchestral Performance and Best Engineered Album, Classical. The second in a three-disc survey of Dutilleux's orchestral works, it follows an album that received nominations in the same three categories last year. The third in the cycle will be released during Dutilleux's 100th anniversary season in 2016.
In the Chamber Music/Small Ensemble Performance category, the Takács Quartet was nominated for its recording of of Shostakovich's Second String Quartet and Piano Quintet, with pianiat Marc-André Hamelin. Violinist Christian Tetzlaff, his cellist sister Tanja Tetzlaff and pianist Lars Vogt received a nomination for their performance of Brahms's piano trios, and eighth blackbird, the Chicago-based contemporary music sextet, received a nod for its album Filament, which features works by Philip Glass, Nico Muhly and Bryce Dessner among others. The ensemble has previously won Grammy awards in 2008, 2009 and 2011.
The winners will be announced at a ceremony at the Staples Center in Los Angeles, California, on 15 February 2016.
Full list of classical nominees:
Orchestral Performance
'Bruckner: Symphony No. 4,' Manfred Honeck, conductor (Pittsburgh Symphony Orchestra)
'Dutilleux: Métaboles; L'Arbre Des Songes; Symphony No. 2, 'Le Double',' Ludovic Morlot, conductor (Seattle Symphony)
'Shostakovich: Under Stalin's Shadow - Symphony No. 10,' Andris Nelsons, conductor (Boston Symphony Orchestra)
'Spirit of the American Range,' Carlos Kalmar, conductor (the Oregon Symphony)
'Zhou Long & Chen Yi: Symphony 'Humen 1839',' Darrell Ang, conductor (New Zealand Symphony Orchestra)
Chamber Music/Small Ensemble Performance
'Brahms: The Piano Trios,' Tanja Tetzlaff, Christian Tetzlaff and Lars Vogt
'Filament,' Eighth Blackbird
'Flaherty: Airdancing for Toy Piano, Piano & Electronics,' Nadia Shpachenko and Genevieve Feiwen Lee
'Render,' Brad Wells and Roomful of Teeth
'Shostakovich: Piano Quintet & String Quartet No. 2,' Takács Quartet and Marc-André Hamelin
Classical Instrumental Solo
'Dutilleux: Violin Concerto, L'Arbre Des Songes,' Augustin Hadelich; Ludovic Morlot, conductor (Seattle Symphony)
'Grieg & Moszkowski: Piano Concertos,' Joseph Moog; Nicholas Milton, conductor (Deutsche Radio Philharmonie Saarbrücken Kaiserslautern)
'Mozart: Keyboard Music, Vol. 7,' Kristian Bezuidenhout
'Rachmaninov Variations,' Daniil Trifonov (the Philadelphia Orchestra)
'Rzewski: The People United Will Never Be Defeated!,' Ursula Oppens (Jerome Lowenthal)
Classical Compendium
'As Dreams Fall Apart - The Golden Age of Jewish Stage and Film Music (1925-1955),' New Budapest Orpheum Society; Jim Ginsburg, producer
'Ask Your Mama,' George Manahan, conductor; Judith Sherman, producer
'Handel: L'Allegro, Il Penseroso Ed Il Moderato, 1740,' Paul McCreesh, conductor; Nicholas Parker, producer
'Paulus: Three Places of Enlightenment; Veil of Tears & Grand Concerto,' Giancarlo Guerrero, conductor; Tim Handley, producer
'Woman at the New Piano,' Nadia Shpachenko; Marina A. Ledin and Victor Ledin, producers
Contemporary Classical Composition
'Barry: The Importance of Being Earnest,' Gerald Barry, composer (Thomas Adès, Barbara Hannigan, Katalin Károlyi, Hilary Summers, Peter Tantsits and Birmingham Contemporary Music Group)
'Norman: Play,' Andrew Norman, composer (Gil Rose and Boston Modern Orchestra Project)
'Paulus: Prayers & Remembrances,' Stephen Paulus, composer (Eric Holtan, True Concord Voices and Orchestra)
'Tower: Stroke,' Joan Tower, composer (Giancarlo Guerrero, Cho-Liang Lin and Nashville Symphony)
'Wolfe: Anthracite Fields,' Julia Wolfe, composer (Julian Wachner, the Choir of Trinity Wall Street and Bang on a Can All-Stars)
Classical Solo Vocal Album
'Beethoven: An Die Ferne Geliebte; Haydn: English Songs; Mozart: Masonic Cantata,' Mark Padmore; Kristian Bezuidenhout, accompanist
'Joyce & Tony - Live From Wigmore Hall,' Joyce DiDonato; Antonio Pappano, accompanist
'Nessun Dorma - The Puccini Album,' Jonas Kaufmann; Antonio Pappano, conductor (Kristīne Opolais, Antonio Pirozzi and Massimo Simeoli; Coro Dell'Accademia Nazionale Di Santa Cecilia; Orchestra Dell'Accademia Nazionale Di Santa Cecilia)
'Rouse: Seeing; Kabir Padavali,' Talise Trevigne; David Alan Miller, conductor (Orion Weiss; Albany Symphony)
'St. Petersburg,' Cecilia Bartoli; Diego Fasolis, conductor (I Barocchisti)
Opera Recording
'Janácek: JenŠ¯fa,' Donald Runnicles, conductor; Will Hartmann, Michaela Kaune & Jennifer Larmore; Magdalena Herbst, producer (Orchestra Of The Deutsche Oper Berlin; Chorus of the Deutsche Oper Berlin)
'Monteverdi: Il Ritorno D'Ulisse In Patria,' Martin Pearlman, conductor; Fernando GuimarÁes and Jennifer Rivera; Thomas C. Moore, producer (Boston Baroque)
'Mozart: Die Entführung Aus Dem Serail,' Yannick Nézet-Séguin, conductor; Diana Damrau, Paul Schweinester & Rolando Villazón; Sid McLauchlan, producer (Chamber Orchestra of Europe)
'Ravel: L'Enfant Et Les Sortilèges; Shéhérazade,' Seiji Ozawa, conductor; Isabel Leonard; Dominic Fyfe, producer (Saito Kinen Orchestra; SKF Matsumoto Chorus and SKF Matsumoto Children's Chorus)
'Steffani: Niobe, Regina Di Tebe,' Paul O'Dette and Stephen Stubbs, conductors; Karina Gauvin and Philippe Jaroussky; Renate Wolter-Seevers, producer (Boston Early Music Festival Orchestra)
Choral Performance
'Beethoven: Missa Solemnis,' Bernard Haitink, conductor; Peter Dijkstra, chorus master (Anton Barachovsky, Genia Kühmeier, Elisabeth Kulman, Hanno Müller-Brachmann and Mark Padmore; Symphonieorchester Des Bayerischen Rundfunks; Chor Des Bayerischen Rundfunks)
'Monteverdi: Vespers Of 1610,' Harry Christophers, conductor (Jeremy Budd, Grace Davidson, Ben Davies, Mark Dobell, Eamonn Dougan and Charlotte Mobbs; the Sixteen)
'Pablo Neruda - The Poet Sings,' Craig Hella Johnson, conductor (James K. Bass, Laura Mercado-Wright, Eric Neuville and Lauren Snouffer; Faith DeBow and Stephen Redfield; Conspirare)
'Paulus: Far in Tte Heavens,' Eric Holtan, conductor (Sara Fraker, Matthew Goinz, Thea Lobo, Owen McIntosh, Kathryn Mueller & Christine Vivona; True Concord Orchestra; True Concord Voices)
'Rachmaninoff: All-Night Vigil,' Charles Bruffy, conductor (Paul Davidson, Frank Fleschner, Toby Vaughn Kidd, Bryan Pinkall, Julia Scozzafava, Bryan Taylor and Joseph Warner; Kansas City Chorale and Phoenix Chorale)
Photo: Rosalie O'Connor