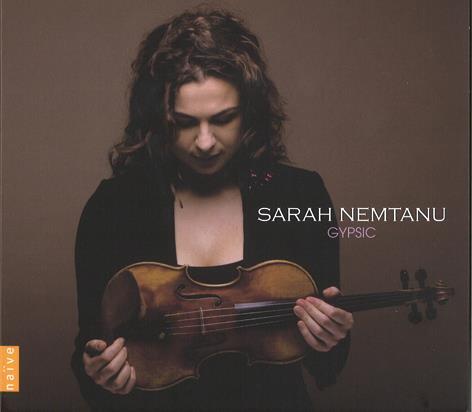 The Strad Issue: January 2010
Musicians: Sarah Nemtanu (violin) Chilly Gonzalez (piano/Farfisa organ/percussion) Romain Descharmes (piano) Iurie Morar (cimbalom) Orchestra/Aurélien Azan Zielinski
Composer: Monti, Enescu, Ravel, Sarasate, G. Boulanger
This label encourages its violinists to tinker with well-known pieces, whether from a spirit of fun, or a desperate desire to be different, I know not. Sarah Nemtanu, French-born of Romanian parentage, sounds quite capable of playing everything 'straight'.What disturbs me is that I find this programme of mostly 'exciting' music so unexciting. The best performance, despite a few tiny inaccuracies, is Tzigane, where Nemtanu sounds quite at home. Ravel's weird little Berceuse on Fauré's name gains nothing from being accompanied by electronic organ.
Enescu's Sonata, in which Nemtanu plays pretty well, is let down by pianist Romain Descharmes, who seems to have no feeling for the style and accompanies rather than partners. The result is very one-sided.
The clunky accompaniments given to Monti's Cza?dás and Ravel's Blues detract from the one's fizz and the other's cool irony. The irrelevant cimbalom introduction to Zigeunerweisen has me almost giving up the will to live, and thereafter the instrument just gets in the way of some virtuosic violin playing.
The disc ends with Georges Boulanger's sentimental Avant de mourir, given its pop title My Prayer. My own prayer is that Sarah Nemtanu gives us a better showcase for her talents next time.
TULLY POTTER