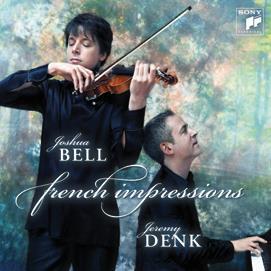 THE STRAD RECOMMENDS
The Strad Issue: January 2011
Description: Electrifying accounts of Gallic classics for violin
Musicians: Rachel Kolly d'Alba (violin) Bienne Symphony Orchestra/Jean-Jacques Kantorow, Pays de la Loire National Orchestra/John Axelrod
Composer: Saint-Saëns, Ysaÿe, Chausson, Ravel

As a follow up to her fine recording of Ysaÿe sonatas last year, Rachel Kolly d'Alba, a former child prodigy and winner of the Paderewski Prize and Jeunesses Musicales Competition, presents an outstanding selection of Franco–Belgian violin favourites. Her electrifying intensity and deep involvement with the emotional narrative of each piece makes an indelible impact and feels like a throwback to a golden age when making music felt like an act of celebration. The opening movement of the Saint-Saëns is so pulsatingly alive, so keenly responsive to the great Frenchman's every caprice and whimsy that it feels as though one is hearing the piece for the very first time.
The Chausson is a much tougher nut to crack. Its Parsifal-like sound world and profoundly intimate, half-whispered intimacy would on paper appear to be the antithesis of everything a concertante item should be. The soloist must become a poetic, muse-like figure, meditating introspectively on the musical world around her. In this important respect, d'Alba's hypnotic performance is a triumph of interpretative incandescence as she weaves in and out of the music's surging textures.
The sensation of a gifted virtuoso riding the tide of each composer's exuberant creative imagination continues with unforgettable accounts of Ravel's Tzigane and two Ysaÿe classics (Rêve d'enfant and Berceuse de l'enfant pauvre). D'Alba is supported to the hilt by her accompanists, and the engineering (although a shade lacking in ambience in the Saint-Saëns) captures her alluring sound world to perfection.
JULIAN HAYLOCK