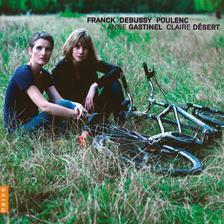 The Strad Issue: January 2012
Description: A welcome collection of three Gallic cello sonatas
Musicians: Anne Gastinel (cello) Claire Désert (piano)
Composer: Franck (transc. Delsart), Debussy, Poulenc
French cellist Anne Gastinel returns to her roots in this disc, celebrating 20 years since her first recording. Claire Désert creates a still, quiet atmosphere at the opening of Franck's Sonata, into which Gastinel enters seamlessly, with a light touch and delicate phrasing. All restraint is cast off in the Allegro, in a performance full of frenetic spirit, pushing forward to an extremely fast closing Presto. Gastinel uses a strong right arm and fast vibrato for the third movement's dramatic passages and a sweet, pure sound in the A string's higher reaches.
The cello sweeps into Debussy's Sonata with breadth and nobility and when the main tune finally breaks out Gastinel plays it with breathtaking dignity and poise. The decision to glissando down from the high harmonic in bars 8 and 9 of the Sérénade is an unusual one, but Gastinel's refined playing style suits the music well, with the ebb and flow of Debussy's ever-changing markings seeming to issue naturally from her bow.
In Poulenc's Sonata, similarly quicksilver of mood, Gastinel and Désert create a magical atmosphere in the devout Cavatine, and Gastinel puts all her expressive weight behind the huge double-stops that open the finale.
The sound is bright, clear and slightly reverberant.



JANET BANKS