The Strad's editor Emma Baker introduces the November 2022 issue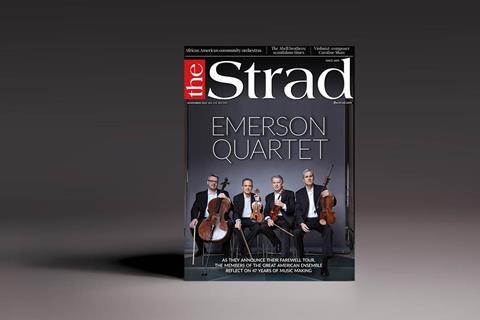 The Emerson Quartet has been acknowledged as one of the world's leading string ensembles for 47 years, which is 'longer than many marriages' according to Bruce Hodges, who interviews the current members of this great US ensemble on page 26. But now these four musicians have announced their retirement in 2023, with an international farewell tour planned over the next season, before they take on individual projects and teaching. In a wide-ranging interview the Emersons take a valedictory look at the high points of their partnership, memorable concerts, and talk about instruments they play, including ones they commissioned from leading contemporary luthiers.
Our American focus continues with an examination of the rise of black community orchestras in the US during the mid-20th century. Faced with the grave social injustices of racial segregation, African American classical musicians set up their own ensembles, orchestras and mentoring projects, the legacy of which still exists today. Through research and interviews with surviving musicians from the time, Cleveland Orchestra violist Eliesha Nelson examines this fascinating hidden history on page 34.
Going even further back in time – 100 years – on page 48, Clifford Hall examines the intriguing history of the violin-loving Abell brothers from Connecticut. This is a gripping tale of greed and ambition that ultimately resulted in the selling-off and dispersal of a wonderful collection of rare violins.
Back to the present, and on page 40 we feature an interview with US-born Caroline Shaw, one of the most lauded composers of our time, and the youngest ever winner of the Pulitzer Prize for Music in 2012. Also a violinist, violist and singer, she speaks to Toby Deller about her inspirations, and the artists she most loves working with.
Emma Baker editor
Email me at thestrad@thestrad.com or tweet @TheStradMag