The Strad's editor Emma Baker introduces the August 2022 issue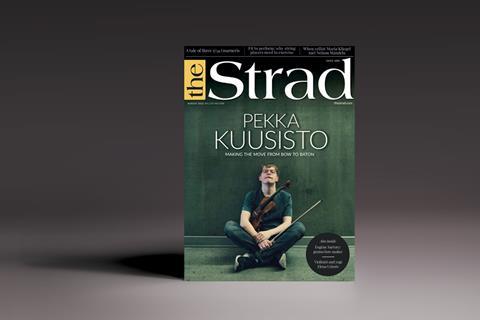 Summer is here, bringing with it an array of music festivals held all around the northern hemisphere. This month we feature two artists who will both appear at the BBC Proms in the UK during July and August. Our cover star, the remarkable Finnish violinist Pekka Kuusisto, speaks to Andrew Mellor on page 26 about his burgeoning dual career as a conductor, the joy of playing the 'Scotta' Stradivari, recently acquired on loan, and, movingly, about the loss of both his mother and brother earlier this year.
The award-winning, US-born violinist Elena Urioste makes her Proms debut this summer. Memorably, she and her pianist husband Tom Poster kept the music going through the pandemic when concert halls were closed, with their life-affirming, live-streamed #UriPosteJukeBox project. On page 52 she to talks to Toby Deller about her multifaceted career, involving both solo and chamber music, recording, and about her love of yoga.
The summer also means more time spent outdoors – and what better excuse to start an exercise programme? On page 40, violinist and performance consultant Berenice Beverley Zammit examines how a tailored exercise regime can not only make a musician healthier, but can also be used to simulate the stress of live performance, resulting in both physiological and psychological gains.
Our lutherie focus this issue is on three Guarneri violins, all made in 1734, and how non-invasive analysis techniques taking place at a research facility in Cremona are being utilised to discover the links between these priceless instruments (page 34). We also explore the life and times of Eugène Sartory, arguably the finest bow maker of the 20th century. On page 46 bow maker Richard Morency takes a close look at one of Sartory's bows, made around 1910–15, to analyse his method of construction and discover just what made his craftsmanship so consistent, and so great.
Emma Baker editor
Email me at thestrad@thestrad.com or tweet @TheStradMag
In our regular sections:
In Focus: Philip Brown examines a rare cello by Carlo Ferdinando Landolfi from 1766
Trade Secrets: Luthier Sarah Peck presents her method for making Baroque bridges
My Space: Saarbrücken maker Martin Krause
Making Matters: How did six bow makers create a single bow in just three days in Paris?
Masterclass: Johanna Staemmler of the Armida Quartet on Mozart's Quartet no.16
Technique: Iagoba Fanlo on practice routine
Life Lessons: With violinist Helena Rathbone
Opinion: The importance of opening up the concert experience for young people
Postcard from Belgium: A report from the cello finals of the Queen Elisabeth International Music Competition
From the Archive: From August 1912
Sentimental Work: Maria Kliegel on Wilhelm Kaiser-Lindemann's Hommage à Nelson M.