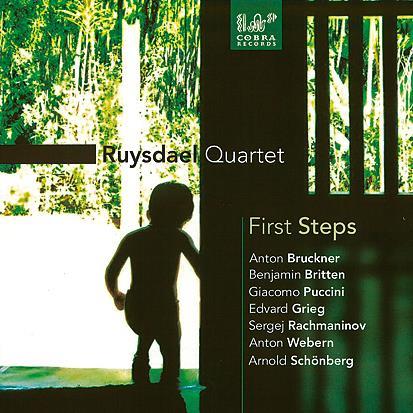 The Strad Issue: January 2010
Musicians: Ruysdael Quartet
Composer: Bruckner, Britten, Puccini, Grieg, Rachmaninoff, Webern, Schoenberg
Under the album title 'First Steps', the Ruysdael Quartet has created a programme of apprentice pieces to create a quite delightful release. Many of the composers did not continue writing in this genre, but the most substantial score comes from the 15-year-old Benjamin Britten. Jolly, lightweight and a quite extensive piece, his F major Quartet gives little idea of the composer to follow in terms of style, unlike the readily recognisable fingerprints we find in Rachmaninoff's First Quartet, written at the age of 16.
It is not easy to detect the voices of the mature Webern and Schönberg in their late-Romantic pieces here until we remember the debt they both owed to Wagner before they discovered atonality. Nor would you readily guess the earnest endeavour that came from Puccini when it is shorn of his operatic pulchritude.
The playing throughout is suave, perfectly weighted between instruments, and with a most effective whispered passage in the Webern. The players make a very good case for Grieg's piece of homework, and throughout the disc there is a lucid clarity of articulation. My reservation comes in the way they use the same impeccable tonal quality to serve each composer. The warm and smooth sound adds to this, and I miss bows biting into strings at appropriate moments.
DAVID DENTON