The 18-year-old BBC New Generation Artist and winner of the 2019 Carl Nielsen International Violin Competition talks about his musical background, his idols and more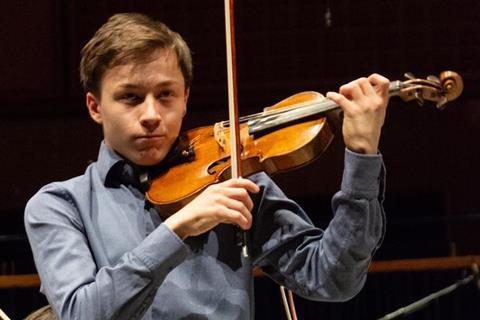 Why did you decide to play the violin?
Both my parents are musicians. My mother is a pianist; my father is a cellist and as a small child I would listen to him practising, and disturb him during his practice sessions. I also wanted to play the cello at first, but there happened to be a really great violin teacher in my home town of Norrköping in Sweden. Also, my father didn't want me to play the same instrument as him so he told me I should try the violin for a year and if I didn't enjoy it I could switch to the cello. In the end I didn't want to make that switch.
How do you mentally prepare for competitions?
I grew up with competitions - I think I was eight or nine when I was entered for my first one - so that helped me get used to them. But taking part in competitions is definitely not what I enjoy most about playing the violin! I try just to think of it as giving a concert, and actually, I try not to think too much about it at all if possible.
Which instrumentalists inspired you?
The biggest idol for me growing up was Maxim Vengerov; we often used to listen to his recordings in the car. Then there was Janine Jansen. I've met her a couple of times now: she lives in Stockholm like me and has given me private lessons. It's scary, of course, meeting your idols, but then it's great when they turn out to be super nice like her.
Can you describe your instrument?
It's a 1736 Stradivarius, which is a late model, and has quite a dark sound in comparison to some of the earlier ones. I love the darkness and power of the G string. But it has a lot of different colours and is capable of very fine nuances so it's great for all repertoire. It grows on me everyday. I've had it for a year now, and we're still getting to know each other.
Any orchestras on your bucket list?
I'd love to play with the New York Philharmonic and Berlin Philharmonic, along with many other orchestras. I think it's good have strong ideas of where you want to go to motivate you. But I still think fondly of my debut: it was in my home town, where there is a very good professional orchestra. My dad has been a member for my entire life, so when I played with the ensemble it was such a nice thing because I pretty much knew all the players. It was the perfect debut.
Top practice tip?
Something I have to keep reminding myself to do is to use my brain. A lot of the time it's better to think about how you want to do something, away from the instrument, instead of just playing. I often do this when I'm on the train or in the car, imagining the music in my head. Then I find that things are easier when I get to my instrument.
Johan Dalene performs Mendelssohn's Octet with Janine Jansen and other members of the Crescendo Programme at Wigmore Hall this November