The Strad's editor Charlotte Smith and contributing editor Pauline Harding put seven rosins to the test and discover a world of difference between brand and type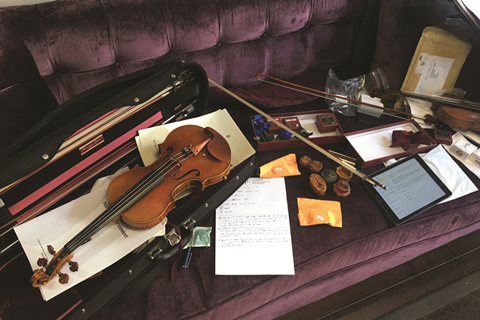 Most string players understand the importance of rosin. Without it there can be little to no adhesion between horsehair and string, and consequently an absence of any recognisable sound from even the world's best instruments and bows. But how many of us have gone the extra mile to investigate the types available?
Admittedly such exploration is difficult – particularly because finding exactly the right rosin for your individual violin–bow combination and playing style requires a rehair, or at the very least a hair shampoo, before each trial can begin, in order to prevent contamination between brands. At The Strad we have never shied away from a challenge – especially in the name of string playing research – so we set up our own rosin-testing experiment.
In order to remain as impartial as possible, we called upon the help of violin dealer Sean Bishop who, as well as letting us use his London showroom for the testing session, kindly provided seven near-identical, newly rehaired bows – all by Violin Society of America gold medallist Paul Sadka. On each of the seven bows we used a new cake of rosin from one of seven different manufacturers.
We both tested the seven bows on our own instruments – mine an Augustin Chappuy from 1770 and Pauline's a Jürgen Manthey from 2004 – individually and in duet over a three-hour period, listening and feeling for differences in adhesion, clarity of articulation, and tone. We cleaned our strings thoroughly before testing each new rosin with Lapella No.31 Sensitive Cleaning Wipes for Fingerboards and Strings, which proved to be very effective.
At the beginning of our experiment we were unsure about how obvious the differences between rosins would be, but the variation in tone and playability was far more pronounced than we would have ever imagined. We hope our findings will prove useful and interesting. But of course, it's important to remember that these are the individual impressions of just two violinists – and as you will see, we didn't always agree.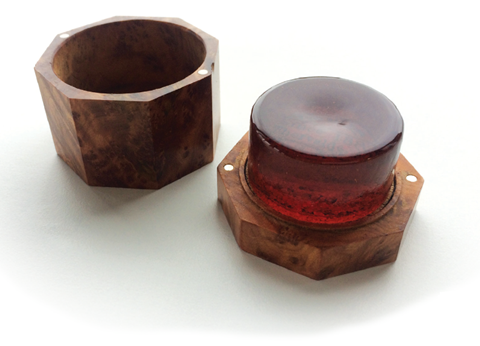 Colophane Supérieure Sartory
Manufacturer Thorvaldsson, France
Price€15-€20
www.rosinmakers.com
This is a very stylishly presented rosin. It is packaged in an octagonal wooden box, with magnetic fasteners that provide a satisfyingly secure closing action. The rosin itself, formulated and made in France, is mounted on cork and is a rich amber in colour. According to the manufacturer, it is 'blended to impart the smooth playing characteristics of a light rosin, with the articulation and clarity of a dark rosin' and comes from a long line of handmade formulas, the first of which was created in 1884 by Mirecourt violin maker Sebastian-August Deroux. The company is headed today by Alexandre Thorvaldsson, the son of violinist Snorri Thorvaldsson, who took over from Bernard Millant in 1975.
Although breaking into the new rosin cake was fairly tough, and involved a fair amount of vigorous scrubbing up and down the bow, application from then on was smooth and even. Through the years, the manufacturer has aimed for a combination of greater adhesion with a minimum of powder residue, which should result in a strong, pure sound. Once I had removed the initial powder excess (generated by my energetic scrubbing), I found that any graininess in the sound disappeared and I was able to produce a smooth and consistent tone from the heel to the tip of the bow, when playing at a good mezzo forte to forte. The tone at pianissimo was attractive and warm, and if adhesion was ever so slightly lacking – creating a moderate harmonic effect at very low volumes – I suspect this might have been rectified once I had found the correct rosin-to-bow ratio with further applications. CS
This rosin's packaging is beautiful: owning the box alone would make me happy to have purchased the product. The polished wooden case, with a cork-padded lid that forms the rosin's back, is designed to protect its contents from both bangs and overexposure. Air, the company emphasises, is the main enemy of any rosin and will shorten its lifespan, so hermetic packaging is essential – particularly given how long some products remain on shop shelves before they are bought.
The rosin applied smoothly to my bow, without producing excess dust. It created a silky, gliding feel when I played, particularly in legato at higher volume. However, this smoothness seemed to come at the expense of other qualities that I like on my instrument: the hair did not catch the string with enough bite for my taste, especially at lower dynamics, and I missed the sense that I could, if needed, create a real edge to my sound. PH
'From the moment the hair touched my strings I found this to be a top-quality rosin. It gave me all the bite I needed at every dynamic, and helped my violin to sing'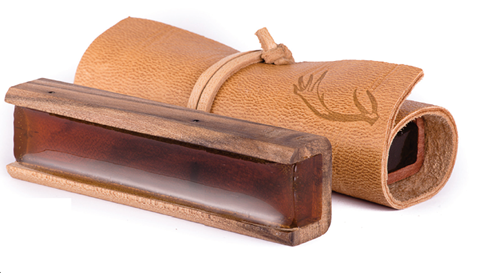 Leatherwood Bespoke
ManufacturerLeatherwood Bespoke Rosin, Australia
PriceFrom AU$88
www.leatherwoodrosin.com.au
Rosin, believes Australian violinist Andrew Baker and founder of Leatherwood Bespoke, is as important to individual players as their instruments and bows: everybody has different tastes and techniques, and so everybody needs a different rosin. For that reason, Baker cooks up individual recipes for his customers based on their answers to four questions: the first concerns their instrument's strengths and weaknesses; the second, the sound qualities they prefer; next, their ideal feel, be it 'smooth and glassy' or 'thick and sticky'; and finally, how much bite they like to have in their attack. Charlotte and I dutifully answered his questions – she with a request for a rosin that would give more punch and clarity, and I for one to enhance the existing qualities of an already responsive instrument. We then waited with curiosity to see what would turn up.
At first I was sceptical about this product: was it really worth the extra cost? For one, it took an effort to get into: first I untied the leather cord, then unwrapped a sheath of soft deer leather, then pulled off a layer of tissue paper, and finally I reached the oblong rosin cake, golden-syrup coloured and gleaming in its hollowed-out wooden case. I felt as though I'd found a golden treasure inside a Robin Hood-style money pouch. In fact, my doubts were short-lived. A few swipes of the bow were sufficient to coat it, and from the moment the hair touched my strings I found this to be a top-quality rosin. It glided across my strings, gave me all the bite I needed at every dynamic, and helped my violin to resonate and sing. PH
Being asked specific questions by the manufacturer about my instrument, playing style and what I would like to achieve in my sound was always going to make this seem like a luxury product. I told Baker that my violin tone is warm and rounded, strong without bright, hard edges – but that because the sound lacks sharpness, it also lacks pinpoint clarity. In response he made 'a 65 per cent crisp blend' designed to bring 'a smoother feel and slightly brighter sound'. I was immediately impressed with the results. This was a biting rosin that caught the string easily in even the most delicate pianissimos, was pure and smooth in long bows and produced a crisp staccato with ease. It was the perfect match for my violin. CS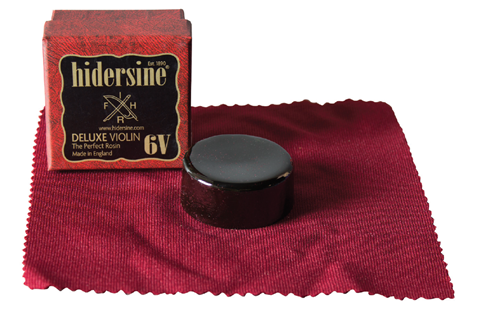 Rosin Hidersine Deluxe Violin 6V
ManufacturerThe Hidersine Company, UK
Price£5.65
www.hidersine.com
One of a number of Hidersine blends for particular instrument and string types, the company's Deluxe Violin rosin is 'designed specifically for use with steel strings and made to an original recipe using a unique blend of waxes and resins'. Housed in a red cardboard box, the large rosin cake is presented in a standard cloth and is dark-coloured. The British brand, now owned by Barnes & Mullins, was founded in 1897 by chemist and double bassist Francis Hider, who had developed and manufactured his first double bass rosin in around 1890.
The Deluxe Violin 6V was a fairly soft rosin and consequently easy to break into. On my Peter Infeld synthetic core strings (produced by Thomastik-Infeld) I felt the product was at its best when playing the E and A, where it coaxed a sweet, non-piercing tone from my violin, but was perhaps less effective on the D and G, where the lower partials were sometimes lost. At a good mezzo forte the tone was strong and even, but when using a softer bow stroke there was some difficulty in catching the string absolutely – again, I imagine this might be rectified with a more intimate understanding of the correct amount of rosin required to maximise its effectiveness. CS
The Hidersine was a good all-round rosin presented in no-nonsense, no-frills packaging, that allowed me to play easily and smoothly without any noticeable 'bumps' or quirks in my sound. I found it helped me to create a blended, sleek sound on my instrument from mezzo forte up, but at the same time without enhancing my violin's natural resonance or giving me as much bite as I would like. I found it more difficult to gain enough traction with the string in quieter dynamics than when I was using some of the other rosins. PH
'I found the rosin to be fine at full volume, providing a good level of adhesion without too much stickiness. But in quieter playing the sound seemed gritty'
Larica Metall-Kolophonium – Meteoric Iron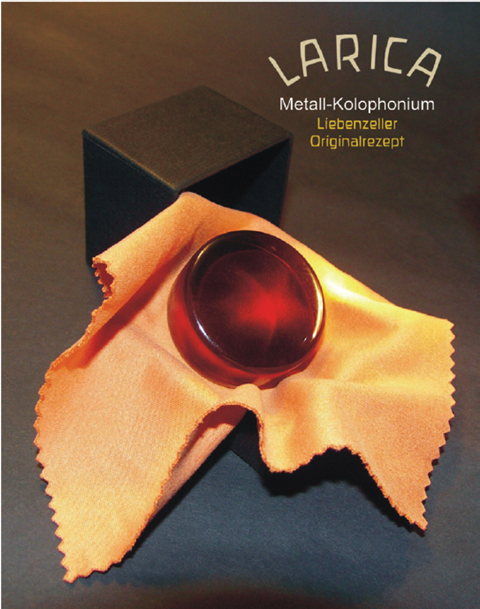 ManufacturerKolophonium Manufaktur Seitz, Switzerland
PriceCHF28 (prices vary worldwide)
www.larica.ch/en
Since 2008 Larica has been creating rosins enhanced with various metals, in order to alter the hardness of each product and its tone. This addition, claims the company website, boosts the radiance and evenness of an instrument's sound; it also makes the rosins more resistant to changes in temperature and humidity.
Customers can choose from a range of metals: gold or tin, for balance, warmth and clarity; meteoric iron, for power, focus and projection; silver, for brightness, smoothness and a concentrated, 'pleasant' sound; or copper, for warmth, grace and a 'velvety tone'. Charlotte and I agreed that by far the most intriguing addition to these rosins was meteoric iron, and so we decided to investigate further.
This was another simply presented product with a focus on the rosin rather than its packaging, and it applied easily to my bow without noticeable dust. So far so good. However this rosin was, unfortunately, not a good match for me or my violin: from the outset, there was a noticeable grittiness to my sound, and this varied from one part of the bow to the next – although I was careful to check that all parts of the hair were covered reasonably.
I really felt as though I had meteoric iron between my bow and my strings. There was bite, but I found it unpredictable and difficult to control. For those who like a Billie Holiday-style rasp to their tone, great – but this one was not for me. PH
The opportunity to try a rosin featuring a substance as unusual as meteoric iron was too good to pass up, but given that Larica metal rosins work better, by the company's admission, with 'newly made instruments, Baroque instruments, and all those in the Chrotta family' this was never going to be a perfect fit for my 1770 French violin. The rosin was fine at full volume, providing a good level of adhesion without too much stickiness. But in quieter playing the sound seemed crackly. Dust levels were good. CS
'The effect on my violin was incredible, with a noticeable increase in power and punch'
Andrea 'Sanctus'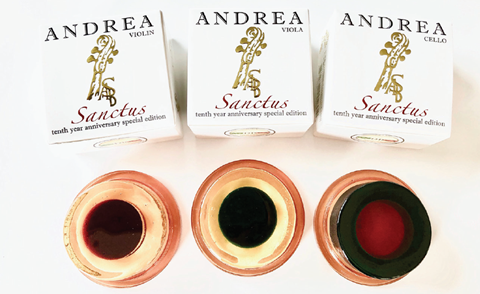 Manufacturer Cremona in America, US
Price US $55; Europe £58-£62
www.cremonainamerica.com
To celebrate its tenth anniversary, rosin manufacturer Cremona in America has released this 'Sanctus' rosin, which innovatively combines two hydrogenated pine-rosin recipes within one rosin cake: one harder, light honey-coloured outer ring, for a focused, smooth sound; and a stickier, treacle-dark centre for added bite. The harder outside also serves to protect the softer inner section from damage and oxidation. Both sections mix as they are applied to the bow, creating an end formula designed to enhance an instrument's sound.
At first opening, this product gave me a bit of a shock: I was greeted by a ghostly, smiling face peering out at me from the base of the rosin's plastic tub (this, it emerges, is a depiction of the company CEO Peter Bang's violinist father, Andrea Bang). The rosin itself, attached to the lid, was more unusual still, with its circle of darker rosin punctuating the larger, paler outer ring. It took only a few swipes of the bow to send dust flying: very little effort was needed to coat my bow hair completely. The effect on my violin was incredible, with a noticeable increase in power and punch; it spoke clearly at every dynamic from pianissimo to fortissimo, sang with ever greater resonance, and seemed to be more responsive than ever. The only cause for slight alarm was a note in the instruction booklet suggesting that users wear protective gloves and eye protection when handling the product. Nevertheless, in the absence of any allergic reaction, I feel compelled to overlook this fact; this rosin was a perfect match for my violin. PH
This unusual two-rosins-in-one encouraged the richest and warmest tone from my already fairly mellow instrument on our testing day. The lower strings seemed particularly dark, while the E and A were sweet and tuneful. Such a cushioned sound might not have been ideal for penetrative solo playing, but blended well in duet with Pauline's instrument to create an edgier texture. There was a greater excess of powder than I experienced with most other brands, and I would recommend a more sparing application in the first instance, as the rosin blend makes for a comparatively thick covering. CS
'I was encouraged by the clarity and purity of the resulting tone'
Lapella Finest Gold Rosin No.20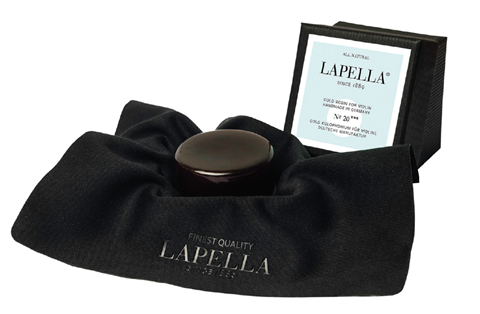 ManufacturerC.A. Götz jr. GmbH, Germany
Price€18
www.lapella.de
Lapella first started making rosin in Markneukirchen, Germany, in 1889. Since then, the company has developed its products and continued to grow, with the addition of a 'clean and care product line' (hence the wipes we used to clean our strings between the different rosin testings). According to Lapella's website, 'Based on more than 100 years of tradition Lapella Rosin has been redesigned and relaunched to fit the requirements of musicians of today.' Its ingredients are all natural and the cakes are still handmade in Markneukirchen.
Every new rosin takes a bit of breaking in – a few swipes up and down before the dust starts to fly. This, at least, is what I thought for the first few minutes of 'bowing' this rosin, first in legato, then more of a martelé, with rising levels of despair. 'Apply Lapella Rosin No.20 on the bow by stroking slowly for several times over the full length of the bow hair,' says the website – but it was a good ten minutes before I could even see a slight impact on the rosin's dark, perfect, shiny surface. Another statement informed me that this rosin came with a cleaning cloth to remove excess dust. If only! As a result, it was sadly very difficult for me to test anything at all. This was a great shame, for those small sections of my bow that did receive a dusting of Lapella Gold responded extremely well on my strings and I was convinced – if only I could get it to work – that this would have been a very promising rosin indeed. PH
Even after Pauline had done her valiant best to break into this very hard and dark rosin, I still found myself scrubbing the cake up and down the bow hair in an attempt to generate a little more powder. This of course meant that I was never able to produce enough adhesion to create a truly strong sound. But I was encouraged enough by the clarity and purity of the resulting tone to suspect that with more effort this rosin would create a very pleasing, smooth and refined tone, and that it might help my violin achieve a little extra brightness. CS
Vision Violin Rosin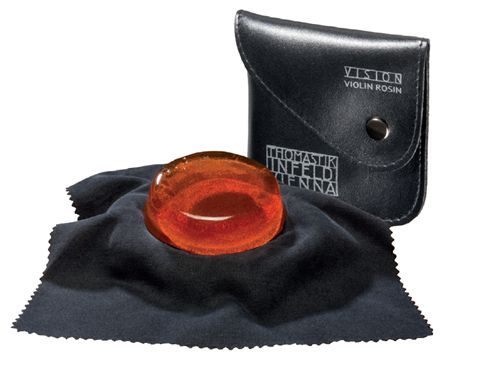 ManufacturerThomastik-Infeld GmbH, Austria
Price€240.45 net for box of 10
www.thomastik-infeld.com
Since the company's founding by luthier Franz Thomastik and engineer Otto Infeld in 1919, the Thomastik-Infeld name has become a respected fixture in the world of strings. The firm produces several rosins specifically formulated for its string lines, in varying degrees of hardness to suit different instruments, playing styles and climates.
Each rosin is designed 'to enable the bow to grip the string without sounding rough or coarse'. Conceived as a match for the company's Vision string types and packaged in a futuristic silver pouch, the Vision Rosin 'grips the string well', produces 'minor formation of dust', and is good in 'cool, dry climates and during winter', according to its branding.
Although I tested this rosin on Thomastik's Peter Infeld strings, rather than its Vision line, I can vouch for many of the brand's claims. I found the rosin relatively easy to break into, and although this might have signified an excess of powder, the rosin generated just enough to produce a strong, pure sound without any interference or crackling.
I was impressed with the grip on the lower strings, which enabled me to create a satisfying bite when playing staccato and spiccato strokes. All in all, this was a wonderful standard rosin and I could see myself using it both for solo and chamber playing, as its penetrative qualities allowed me to play at any volume and timbre with ease. CS
Another good all-rounder, this Thomastik rosin encouraged a nice, even sound across my violin, when I was playing in any position, on every string and at every dynamic. It helped to bring out the warm, silky qualities of my instrument and, although it did not encourage any extra punchiness from my sound, it responded well at all times, without any unwanted noise or side effects. It is a good, practical product that is very suitable for general use. PH
This article is from The Strad's Accessories 2018 supplement, published with the June 2018 issue