The South Korean violinist tells us why playing Wieniawski made the composer and his music feel more 'human'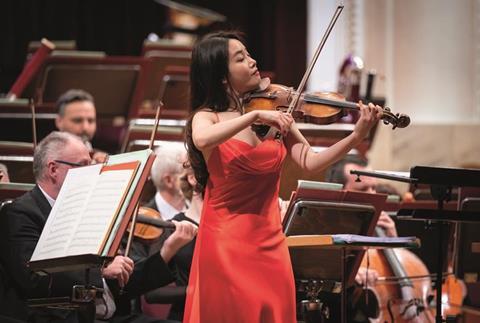 Wieniawski is something of a speciality for Kim. She won hearts at the Wieniawski competition in 2016, and her first solo recording, released the following year on Warner Classics, headlined with his Violin Concerto no.2. 'He has been my favourite composer for a long time, but I always used to have a fear of playing his pieces because he was such a great violinist himself. I always thought, "I am just not brilliant enough for this,"' she explains. Time passed and brought with it a new appreciation of Wieniawski – and the approachable notion that his art runs deeper than that of the virtuoso showman. 'He didn't really want to show off, actually. It's deeper than that. His music is really about singing, and from the heart. Now I understand him better I don't have to fear playing him so much.'
Read The Strad June 2021 issue is out now!
Read Bomsori Kim: Singing from the heart
The process of recording has led Kim to listen to herself more critically. 'This is my third album, and the recording process has actually changed my entire concept of technique because I hear so much and so closely with headphones during editing. You don't always remember how things sound on stage, but listening back to recordings has given me so many new ideas, different concepts of playing and bowing. You have different standards when you hear everything.'
Kim doesn't just like a challenge, she professes to being 'addicted' to pushing herself. She tackled Shostakovich's Violin Concerto no.1 for the first time during the 2016 Montreal International Music Competition, preparing her muscles by playing the entire piece four times in a row, end to end, with a willing pianist. When she takes on all five Mozart concertos with Camerata Salzburg across two days in July, she will be playing the middle three in public for the first time.