As the Royal Birmingham Conservatoire prepares to host a free double bass day, its three masterclass tutors Thomas Martin, Anthony Alcock and Julian Atkinson offer their best practice advice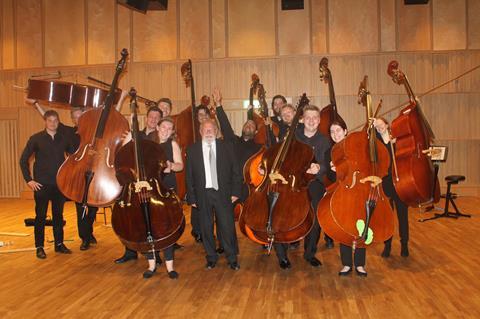 The Royal Birmingham Conservatoire is hosting a free Double Bass Day on Sunday 7 April, with students, teachers, makers and enthusiasts from across the country invited to join.
As well as master classes with Thomas Martin, Anthony Alcock and Julian Atkinson, there will be recitals, a competition for under-18s, and a mass double bass ensemble playing a newly commisisoned piece. Click here to register
Julian Atkinson
When learning a new piece or excerpt it is natural to focus initially on the left hand – playing the notes. Try to spend at least as much time working on your bow arm – speed, weight, position, distribution, cantabile changes. Your bow arm is your voice and the sound you make will define you as a player and musician.
When teaching, aim to introduce thumb position early on so that your students feel 'bilingual' and can use their thumb without feeling as though they are passing through passport control. For instance, first position studies can be repeated up one octave in thumb 'first' position. Later on, introduce the thumb for notes in positions below the octave line.
Hours behind the bass will be so much more pleasurable and productive if a good posture is developed and maintained. At each practice session, take the time to go through an all-round body check, by feel and by sight in the mirror. Focus particularly on keeping shoulders loose and low when raising the arms to playing position (crucial for a weighty relaxed sound) and a relaxed upright spine with a feeling of lifting upwards from the pelvis.
Julis Atkinson is principal double bass of the City of Birmingham Symphony Orchestra
Thomas Martin
String contact with the bow – then don't kill the sound. Many of us choke the string.
No other instrument shifts like the bass: work to free up shifting.
Develop technical imagination – find three different fingerings for passages.
Work on rhythm. Many of us get in the habit of shortening long notes for example.
Listen to intonation in your head then play what you know – if you play and listen you're too late.
Don't overdo motion – just use the fingers. Positive and economical movements.
Don't forget we have a thumb!
Thomas Martin is former principal bass of the London Symphony Orchestra and now a teacher and acclaimed bass maker
Anthony Alcock
Always practice the basics as part of your everyday warmup routine; slow bows progressing through to staccato, along with all of the other fundamental bow strokes. As part of slow bow practice incorporate transitioning from fingerboard to bridge and vice versa, using a variety of crescendo and diminuendo dynamic changes.
Check in with your body, at regular intervals in practice; learning to keep muscles relaxed is a key skill, helped by breathing techniques.
In preparation for concerts, you can imagine your performance, seeing yourself perform all shifts and moves successfully, as if on the big screen.
Visualisation is an important tool for a musician at any stage; this could mean singing the intervals in your head or feeling the rhythm with your body… all without the instrument!'
Anthony Alcock is section leader double bass of the City of Birmingham Symphony Orchestra
Click here to register for the Royal Birmingham Conservatoire's free Double Bass Day on Sunday 7 April