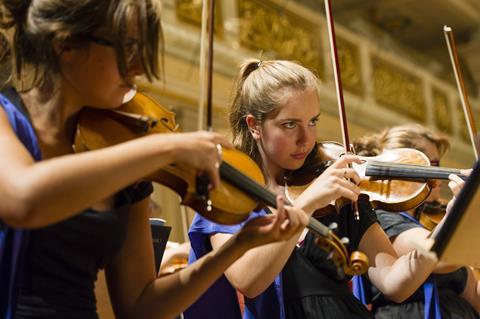 The European Union Youth Orchestra (EUYO) and Grafenegg Festival have joined forces to create The European Music Campus (EMC), a new summer programme of workshops, seminars, masterclasses and performances for young musicians, situated at the Grafenegg Festival site in Grafenegg, Austria. The Campus will form part of a new EUYO residency at the Festival and the inaugural edition will take place in summer 2014.
Organisers hope the programme will serve as a major European hub for the exchange of ideas, cultural debate and learning, with events catering for both active participants and the general public. Professional musicians and figures from the worlds of music, culture and other disciplines will be invited to lead seminars, debates, performances and workshops for children and young people.
'Last summer we ran a pilot offering young players the chance to perform for a professional orchestra, the EUYO, and vice versa,' said EUYO chief executive Marshall Marcus. 'This presents a very exciting opportunity for children and young musicians who may not otherwise get to hear an orchestra like this.'
The first edition will take as its theme Eastern Europe and, according to the press release, 'shine a critical light on the last half century of European integration in eastern Europe'. Musicians from local Austrian and Eastern European conservatories will be invited to attend and conductor Semyon Bychkov will conduct the EUYO in Shostakovich's Symphony no.4.
Marcus has high aspirations for the initiative, which he described as 'Tanglewood by the Danube'. He said the impetus and values behind the Campus echo those set out by the president of the European Commission, José Barroso, in his New Narrative for Europe announcement in Brussels in April, and Androulla Vassiliou's forthcoming Creative Europe support programme:
'The European Music Campus is aligned with some important strands of current thinking. When president Barroso announced the New Cultural Narrative it was clear that the Campus Academy was a practical example of the ongoing debate that he was calling for. The Creative Europe programme that launches in 2014 signifies a new emphasis on the need for the creative industries to respond to the current economic situation in Europe. Again, this has been fundamental to the European Music Campus thinking from the start.'
The European Music Campus inaugural edition will run from 26 July to 9 August 2014. The full programme will be announced in early 2014.
Subscribe to The Strad of download our digital edition as part of a 30-day free trial.
Photo © Peter Adamik