The Rafale Trio from Switzerland and the Arcadia Quartet from Romania receive top awards, reports Pauline Harding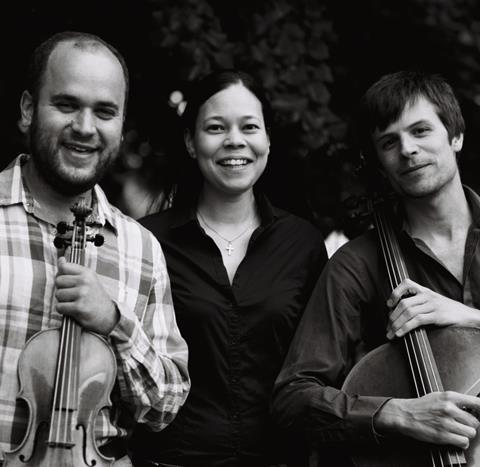 After a nail-biting final at the Osaka International Chamber Music Competition in Japan yesterday, first prizes were awarded to the Rafale Trio from Switzerland (pictured) and to the Arcadia Quartet from Romania. Each will receive ¥3m (£17,600) at an awards ceremony in Osaka's Izumi Hall, and concert tours of Japan beginning in November. The Rafale Trio, which studies with Eckart Heiligers in Zurich, played Schubert's Piano Trio no.2. The Arcadia Quartet studied with Nicu?or Silaghi at Romania's Gheorghe Dima Music Academy and chose Beethoven's op.131 quartet.
Despite cellist Rowena Calvert's bow hair detaching from the stick shortly before she went on stage (she had to borrow someone else's bow for the performance), the UK-based Cavaleri Quartet took second place in the string quartet division with a triumphant performance of Schubert's 'Death and the Maiden'. Third place went to the Wasmuth Quartet from the US, which played Beethoven's String Quartet, op.132.
As well as a classical work, each string quartet played a set contemporary piece by Japanese composer Akira Nishimura: String Quartet no.2, 'Pulses of Light'. The audience was on tenterhooks as the immense rhythmical and technical challenges of the work unfolded – it was a ruthless test of the players' mental and physical capabilities.
The Notos Quartet, from Germany, was the only piano quartet in the final and it was awarded second place in the piano trios and piano quartets division after an engaging performance of Brahms's Piano Quartet, op.25. The set work for piano quartet was Ichiro Nodaira's 'Quatuor en hiver', another physical and mental minefield tackled admirably by the players. Third place in this division went to the French Trio Atanassov with Schubert's Piano Trio no.1. The piano trios were given Takemitsu's atmospheric and altogether more approachable 'Between Tides' as their set work.
The competition is held every three years in two sections: Section 1 for string quartet, and Section II for piano trio and piano quartet. The Festa element of the competition, in which mixed ensembles perform a range of classical, traditional and popular arrangements to an audience jury of 100, takes place today.
Photo: Hannes Schüpbach
A full competition report will appear in the August issue of The Strad. Subscribe to The Strad or download our digital edition as part of a 30-day free trial. To purchase single issues click here