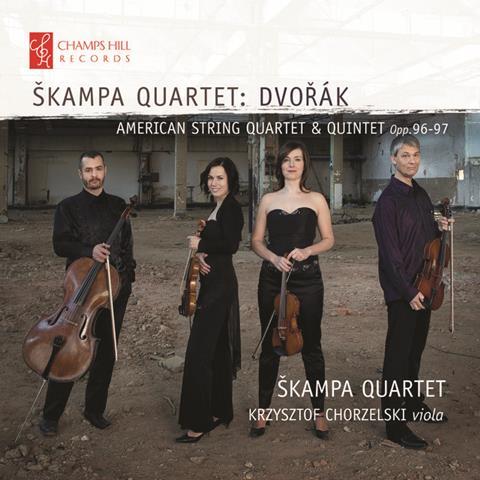 The Strad Issue: September 2017
Description: Mellow and blended flavours in these two 'American' chamber works
Musicians: Škampa Quartet
Composer: Dvořák
Catalogue Number: CHAMPS HILL RECORDS CHRCD 110
The Škampa Quartet's performance of 's String Quartet op.96 invites direct comparison with the multi-award-winning version from their Czech compatriots the Pavel Haas Quartet. The Škampa are less brittle and reactive but more open-sounding than the Pavel Haas, which pays particular dividends in the opening Allegro; the folk-inspired theme is stated with perfect purity and innocence. The Lento flows impeccably but effortlessly, couched by the Škampa's smooth blend. As the quartet proceeds, the Pavel Haas move back into pole position as the musicians' brand of reactive nervousness brings the latter two movements alive in a way the ever-admirable Škampa can't quite manage. I longed for a touch more moodiness in the Molto vivace and more bounce and kinetic energy in the final Vivace.
The Škampa Quartet's advanced sense of blend may well come from the tender but strong tone of violist Radim Sedmidubský, who is joined by Krzysztof Chorzelski for the 'American' Quintet. This more mellow work suits the Škampa sound a little better, particularly the warm Allegro vivo in which Sedmidubský (presumably) offers a glowingly beautiful solo. The thematic material here isn't quite as strong as in the quartet written immediately beforehand, but the theme and variations Larghetto breathes wonderfully and once again benefits from that impeccable blend, which is caught with clarity and a touch of space at Champs Hill. ANDREW MELLOR