Violin laureates share their stories with The Strad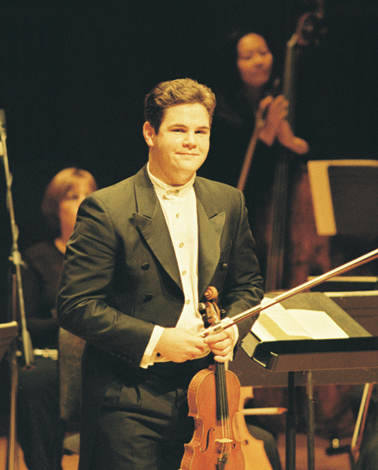 More from our May 2012 article about violinists' experience of competitions:
Andrew Haveron
Andrew Haveron (pictured at the 1998 Indianapolis competition, where he took fifth prize) won second prize at the 1996 Premio Paganini, among other awards. He is now concertmaster with the UK's Philharmonia Orchestra.
'When I was entering competitions, I viewed them simply as a goal to structure my year around. No one else, especially the British students, seemed interested in that kind of circus — I remember the Russians were more open to it. But I knew it was rather removed from the music world, and I had my eyes firmly set on starting my career.
For me, it became almost like a tennis circuit. ?I would certainly see the same faces from one competition to the next, and I made a few friends who I'm still in touch with. I don't think the competitions helped me get anything like a recording deal or an agent — I joined the Brodsky Quartet two years after the Paganini, but that was because I'd been playing quartets since I was six, not because of my success at competitions.
I think anyone who has something individual ?to say does not generally do well in a competition. I'm hugely aware that juries can be torn down the middle, so it's very difficult to accept something new. But there are exceptions. I came fourth at the Queen Elisabeth in 1997, when my friend Nikolaj Znaider won. At the time his playing was 75 per cent testosterone and he thoroughly deserved to win.
I've sat on juries since then, and for me, it's very like orchestral auditions. The idea that you're sunk as soon as you play a wrong note or miss a piano is probably untrue — personally I hope not to be bored! I think a small lapse of concentration is very forgivable, but being a boring player is not.'
Akiko Ono
Akiko Ono came first in the 2000 Yehudi Menuhin International Violin Competition and third in the Premio Paganini. She now teaches at the Yehudi Menuhin School.
'In Japan, agents are always looking for winners. Coming second in a competition doesn't mean much — you have to have a first prize behind you. So I knew that if I wanted to develop my career in Japan, I needed to win at least one competition. My work is now divided mainly into concerts in Japan and teaching in the West. It was a kind of conscious decision to divide my playing career in this way.
When I was competing, around 2000, I was up against people who already had agents and recording deals, and had begun their careers as soloists. I was too busy learning pieces and I don't think my focus was to find my own style or identity. Now I value that side much more. But I wasn't hesitant to put new concertos or sonatas at the top of my programmes — I didn't play safe, and that gave me a more challenging attitude. I could push myself forwards.
During the years when I focused on competitions,? I never had a chance to learn chamber music, or go? to Marlboro or Prussia Cove. Now I think that there's a danger for musicians to keep going to competitions and not knowing when to finish. If you find yourself kicked out at the second round each time, you have to ask yourself what you're hoping to achieve — and then consider other ways to enjoy music and give pleasure to the audience, such as chamber or orchestral work. Also, anyone going in for a competition should be independent as a musician and not too dependent on their teacher.'
Laurent Breuninger
Laurent Albrecht Breuninger came second at the 1997 Queen Elisabeth Competition. He now teaches at the Hochschule für Musik Karlsruhe, Germany.
'I was 29 when I came second at the Queen Elisabeth. I already had an agent and some recording engagements, but the competition gave me additional possibilities. First of all, the preparation for a competition of that kind is so great that for every major engagement since, I've known exactly how to deal with the physical and the psychological sides. If you go through the pressure of preparing a huge programme, you have good ammunition?for the rest of your career. Secondly, it's a kind of stamp on your forehead that stays for as long as you perform. I say this in a positive way — I'm very happy to have that stamp on my head!
I'm somewhat critical about the current tendency in competitions to lower the entry age. Oistrakh won the Queen Elisabeth when he was 30, and we all want our styles to mature for as long as possible, so why should we compete so early? Also, there are far more competitions than there were 30 years ago and there are more prizewinners than the market can cope with.
There's a danger in today's competitions, especially if you choose to play Mozart or Bach. The standards are changing so quickly, as we research and discover new things about how those composers' music was played, that you don't know what's the 'correct' interpretation. You can lose ?lots of time searching for the latest knowledge, when in fact we'll never know how Mozart would have performed his own work. Maybe it's better that we don't know.'
Mikhail Bezverkhni
Mikhail Bezverkhni won first prize at the 1976 Queen Elisabeth International Music Competition. He is now a soloist, composer and painter.
'In the Soviet era, there was one international agency, one national, one regional, and one for Moscow. To be admitted on to their lists, you had to be a competition laureate, otherwise it was the end of the road for your career. So when I was 20? I decided to start accumulating prizes at international competitions. Certainly, winning first prize meant more and better concerts than coming second. My initial prizes were for chamber music, but my teacher Yuri Yankelevich warned me that if I was branded a chamber musician, I would have no solo career.
I practised for the Queen Elisabeth for a year, alone. At that time it was seen as the top competition in the world, with the Tchaikovsky second. After I won,? I had to give laureate concerts for a few months throughout Europe, and on?my return, I did not get the welcome everyone else would have got after such a victory. I was not permitted to travel outside the Soviet Union. I know that Western agents asked for me at my Soviet agency, and heard I had other engagements, or that I was ill or on holiday – all lies. I had major concerts all over the Soviet Union but in the end, the West forgot me. And why not? There will always be new winners.
Suppose competitions were banned. Then, promoters, sponsors and the public would be forced to use their? ears and make their own judgements. Maybe it would mark a return to the time of Kreisler, when a promoter would take chances with artists, testing them out in front of an audience to gauge the reaction.'
Click here to read Part One of this article
Photo: Garry Chilluffo