Nobody can blame a musician for their string breaking on stage. But, says Charlotte Gardner, the way a performer responds is certainly within their grasp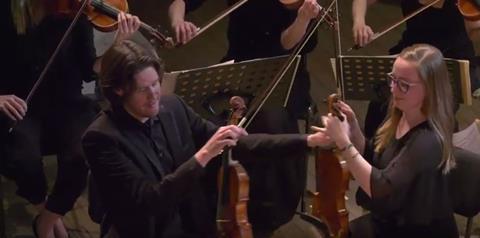 Thomas Gould swaps violins with his desk partner after his E string snaps - moments before his concertmaster solo
Although Kafka may have once opined, 'Better to have, and not need, than to need, and not have,' it's unlikely he was thinking of having a spare E string tucked about one's person. Yet the question of how to react when a string snaps on stage arose at a concert I attended by the Berlin Philharmonic under Constantinos Carydis at the opening of a concert hall in the Swiss village of Andermatt in June.
This was already a strange evening. The fact that a major symphony orchestra was playing in a modest hall in a far-from-established Alpine resort made for a bemused gaggle of journalists – and, I suspect, some equally bemused orchestral musicians. So the likely explanation for what happened when concertmaster Daishin Kashimoto's E string snapped as he played his solo in Shostakovich's Chamber Symphony op.110a is lowered guards.
While you couldn't blame the players for stopping, their laboured recovery was unusual for such a polished ensemble: a helpless shrug from Kashimoto to Carydis; a further pause before Kashimoto and his desk partner uncertainly swapped instruments; then a lengthy and distracting onstage restringing operation, involving not just the second chair but also the second desk, as Kashimoto and everyone else played on.
Happily, the performance recovered, but the incident was a sharp contrast to a video posted online in 2018, capturing the moment that Thomas Gould's E string snapped seconds before he launched into a leader's solo: there was a momentary halt from him but not the orchestra, then a swift, cool-as-a-cucumber instrument switch with his desk partner which enabled his solo to begin right on cue.
Still, I have immense sympathy for someone whose onstage appearance has been torpedoed by circumstances beyond their control. Some years ago, I was a presenter on BBC Four's live television Proms broadcasts, and on my first night the producer accidentally left his fader turned up on my earpiece.
Just as I finished an interview and turned back to the camera to deliver some final Beethoven factoids, his voice blasted into my ear, congratulating a cameraman. My mind emptied. I stumbled, then hastily scanned the prompt cards for the facts I now didn't have a hope of reeling off from memory.
Although the producer spotted all this, he didn't spot the status of his fader. So, as I painfully began to read, I did so to his running in-ear commentary, redirecting the cameras to every non-Gardner, Royal Albert Hall shot he could get.
What enabled me to walk back out on stage a few nights later was having my script so well memorised that, had I been dangled head first over a pool of piranhas, I could still have recited it backwards. However, journalistic gigs are sometimes unavoidably last-minute, so when I do find myself on stage with an interviewee who's an unknown quantity, it's about having a strategy up my sleeve, and knowing that the odd fluffed word isn't going to shoot my career down in flames. Because everyone knows that occasionally 'stuff' just happens.
Hearteningly, violinist Ray Chen reaches the same conclusion in a video blog on snapping strings posted just a week before the Andermatt incident. Chen was once filmed swiftly exchanging instruments with the concertmaster of the Taiwan Philharmonic when his own E string went, but his blog explores the possibility of instantly switching into position on the A to keep going. The result? It's almost always impractical so don't torture yourself over it.
One final point: behind every soloist's impressive recovery is an alert, team-mentality orchestra, and the most glittering example I've ever seen is the Aurora Orchestra when Alban Gerhardt's C string pinged off midway through Tchaikovsky's RococoVariations. Sure, everyone stopped, but a nanosecond later Gerhardt was reaching round to grab the principal cellist's already-proffered instrument while the desk partner passed theirs up to the principal. Moments later, conductor Nicholas Collon brought everyone back in seamlessly. Incredible. So to conclude on another adage: it's not about how you fall, but how you get up again.
This article was published in the January 2020 Lisa Batiashvili issue

Georgian violinist Lisa Batiashvili discusses her latest projects, among them artistic directorship of the Audi Summer Concerts festival and performing on the soundtrack to The White Crow. Explore all the articles in this issue.

More from this issue…