Are we witnessing a golden age for new violin concertos, or simply too much of a good thing? Peter Quantrill argues that while some composers are carrying on a fine tradition, others seem to have lost something along the way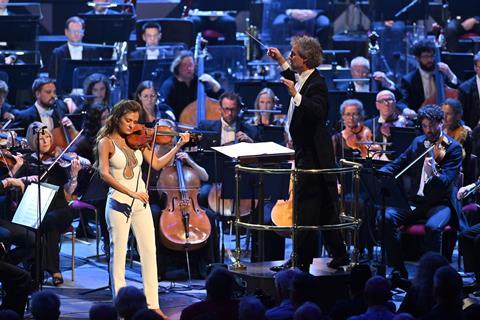 Discover more Featured Stories like this in The Strad Playing Hub
Read more premium content for subscribers here
What has happened to violin concertos? I can't keep up. In December 2022 I caught the premiere of Deborah Pritchard's Calandra at the Barbican, and as a fairly assiduous follower of the London concert scene, I think that was my eighth new concerto of the year, which began with Leonidas Kavakos giving the first performance of Unsuk Chin's Shards of Silence.
This year looks no different. March 2023 is scheduled to bring a new concerto by Toshio Hosokawa to Berlin. In April, Johan Dalene will introduce a piece written for him and the Royal Stockholm Philharmonic by Tebogo Monnakgotla, which should win a prize for something, just on the strength of its title: Globe Skimmer Surfing the Somali Jet.
In the January 2017 issue of The Strad I interviewed three composers, including Pritchard, in search of a sense of identity for the 21st-century violin concerto. Since then, the genre has only multiplied, nurtured by a culture of art music that has reasserted tonality during the last half-century. In turn, touring soloists have lost their anxiety about commissioning and performing pieces which they once feared would turn off their audiences.
During that time, the once-flourishing 'modern ensemble' genre – exemplified by the likes of the London Sinfonietta and Ensemble Intercontemporain – has tailed off. A loss of funding has followed a dearth of creative direction, which stems in turn from a drying-up in the number and (being brutal) quality of new pieces written for them. Composers rarely write for small groups. They want to write their violin concerto for 60 players instead.
So, the violin concerto lives again, and in all shapes and sizes, from the pointillist economy of Helen Grime to baggy monsters by Wynton Marsalis and Lera Auerbach. Somewhere along the way, though, something that used to be vital to the concerto tradition seems to have been lost: a sense of the concerto as a space for shifting power dynamics, for a continual evolution in the relationship between soloist and ensemble, as manifest not only in their interaction but in the very stuff of the solo part. A lot of quick writing falls into either noodling bariolage or nervous twitches, while slow movements elicit either melancholy introspection or supercharged E-string cantabile.
A lot of quick writing falls into either noodling bariolage or nervous twitches
Rather than going to town on specific examples, I'd rather point you towards some composers who avoid these pitfalls in their recent violin concertos. Francisco Coll, Missy Mazzoli, Mark Simpson, Tom Coult: none of these composers sound alike, but their concertos have all grasped the potential of the genre as a piece of taut instrumental theatre. Mazzoli's harmony is much more open and radiant than Simpson's, but their languages are always translated into a solo part in active dialogue with itself and its surroundings. Coll and Coult are more like portraitists, building up a specific atmosphere for one short movement, then contrasting it with another. Perhaps not coincidentally, all of them have found that the traditional span of 20 to 30 minutes is enough for what they need to do.
While the stock of most modernist composers has plummeted in the 21st century, György Ligeti and Harrison Birtwistle were two wily writers who made the personalities of their violin concertos larger than any one soloist could encompass, much as Brahms and Berg did before them. Like their classic predecessors, the best new concertos don't just stick the soloist at the front and give them something beautiful or aggressive to do. They assert, retreat, pause, argue, yield and unify (not necessarily in that order). They change, so that at the end of half an hour, perhaps we are changed too.