The violinist and co-founder of the Manchester Collective on her musical philosophy and forging new ground in an increasingly conservative music world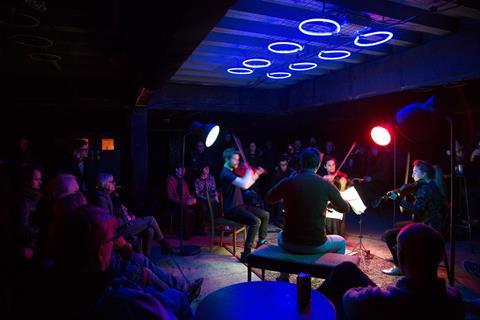 'If you feel safe in the area you're working in, you're not working in the right area' – David Bowie
As a violinist, my career has been a colourful mixture of solo performance, chamber work, orchestral leading, and collaborations. All of these projects have provided me with much stimulation, but ultimately, in many areas the that I was doing felt too safe; as Bowie intimated, I knew that unless my feet didn't quite touch the bottom I wasn't in the right place.
Last year Adam Szabo and I took the plunge and launched the Manchester Collective. Our intention was to take ownership of the music we wanted to perform without conforming to any genre. To throw out the rule-books governing the established concert experience and find non traditional spaces to tour to.
Inspired by other brave musicians who are pushing forward and opening up the classical world – Patricia Kopatchinskaja, Nicolas Altstaedt, Quatuor Ebene, Olly Coates – we have formed a Collective of like-minded musicians, with whom we can experiment with new ideas. It's no longer just about thinking outside the box, but thinking in an entirely new way – completely away from the box if you like. This is liberating and exciting.
Adam and I were trying to create something that represents who we feel we are as musicians. We asked ourselves: Why would you want to be part of an industry you don't believe in if you aren't willing to enact a change yourselves? We knew that people like to feel engaged and challenged, that they would want to be invited into our world, to be a part of something. Between us, we have developed a simple philosophy that, at its heart, is about powerful communication and the finest artistic standards.
Our 2018 season starts with a residency in Manchester's new concert hall, the Stoller Hall, as well as with tours to former industrial warehouses and restored steel mills. These non-traditional spaces are not necessarily comfortable, but they demand that we musicians become more malleable. We need to exist in different spaces, and not just restrict music to one setting. Playing in these unusual venues has really encouraged me to be less precious about things; to be creative within the limitations of the environment and to adapt my musicianship and physicality to the needs of the space.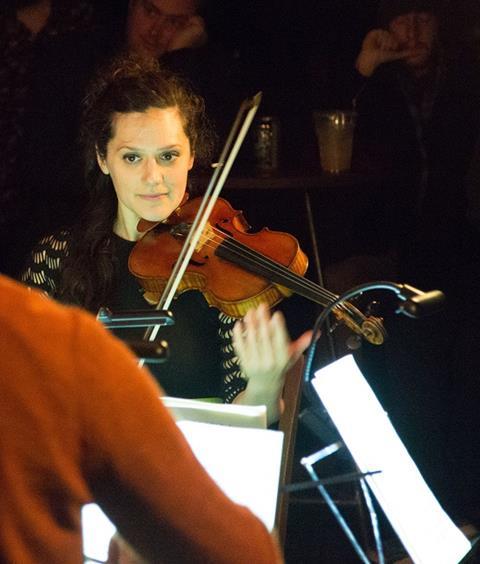 Where possible, we seat the audience in the round – so close that they could almost reach out and touch us. There is nowhere to hide and audiences are affected by our vulnerability and come alive to the element of danger. Young and old, experienced concert-goers and newcomers, are all fascinated with how vital the music can feel when it is so immediate; at what happens when you distort the traditional symbols we are so familiar with (venue choices, dress code, repertoire selection, stage layout etc). You are left with music, musicians and people. People offer us their time - and money - to fill that moment in their life with something that feels real, visceral, and unattainable from elsewhere.
The informal environment has made audiences more receptive, more willing to try something new, and they often surprise themselves. Every show is different, so we aren't conforming to a set format. This week we have commissioned a new work by Daniel Elms – 100 Demons - which will merge live strings and electronics as part of a programme including music by Vessel, Reich, Harvey, Xenakis, Finnis and Gordon. Our next tour, to take place between May 3 and May 5, is called Sirocco and features South African cellist Abel Selaocoe and his band Chesaba mixing music from the Ivory Coast, with that of the Mediterranean. The show will include music by Sollima, Bach, Lawes, Debussy and Crumb.
Musicians undergo 15 or so years of rigorous training to reach the level of skill required to play an instrument professionally. In that time we are handed down a strict set of rules, a school of technique and a repertoire, as well as the established codes on how to sit, where to play, what to wear… I could go on!
Through education, we are given a set of rules, but these are not the essential tools to ensure the survival of this art we represent. The ultimate stage of learning a rule is finding your own way to break it – this is what enables growth. The act of creation is a biological function. In art, as in nature, what doesn't change doesn't live.
We feel deeply connected to what we are playing, and as we continue to reinvent and break the rules, we have to ask ourselves: How can we create an environment in which our audiences also feel this connection? Call this a punk attitude, but we are keeping our fingers crossed that this will ensure the survival of all this incredible music. Bearing in mind that time is a non-refundable currency, we feel this as quite a responsibility!
Manchester Collective are touring their new show, 100 DEMONS, to Sheffield, Liverpool, and Manchester from 3 to 5 May. Booking info and details of their other work at manchestercollective.co.uk