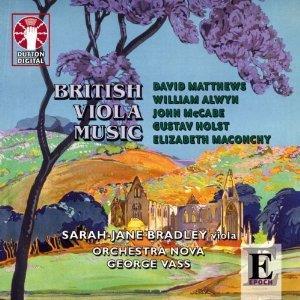 The Strad Issue: January 2008
Musicians: Sarah-Jane Bradley (viola) Orchestra Nova, George Vass (conductor)
Composer: David Matthews, Alwyn, John McCabe, Holst, Maconchy
Is there a better British violist than Sarah-Jane Bradley? I write just a week after hearing her play a demanding recital and after several hearings of this disc of 'British Viola Music', the most gorgeous such artefact to come my way for years. Although most people will not want to hear five more-or-less tranquil works in succession, I have perforce played the programme straight through without wilting – a tribute to the skills of the composers and the musicians, including the splendid little orchestra under George Vass.
The two living creators, David Matthews and John McCabe, attended the sessions and gave the performances their blessing. Matthews's Winter Remembered is a beautiful piece for viola and 16 strings, written for Bradley. Basing its second subject on the opening song of Schubert's Winterreise, it gains from her palette of colours and despite a crisper, frostier central section to vary the nostalgia, it never chills the heart in this reading.
McCabe's Concerto funebre, taking its cue from Hartmann's violin work, dates from 1962 but was revised for the recording. It elicits superb sound from Bradley, not least in the substantial cadenza. To Alwyn's Pastoral Fantasia she brings tone of an extraordinary plangency, with a wonderful ring to the middle register. Her variations of colour and vibrato, worthy of Tertis or Primrose, contribute to the best recording of Holst's late Lyric Movement that I have heard. Maconchy's Romance, lent piquancy by the solo wind quintet, brings a lovely recital to a close. Excellent production, recording and presentation.
TULLY POTTER