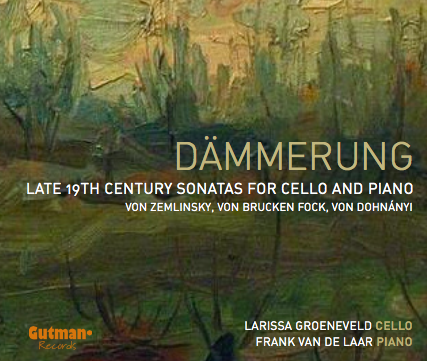 The Strad Issue: September 2016
Description: Nineteenth-century cello sonatas revisited and rediscovered
Musicians: Larissa Groeneveld (cello), Frank van de Laar (piano)
Composer: Brocken Fock, Dohnányi, Zemlinsky
Catalogue number: GUTMAN CD154
Groeneveld and van de Laar here shed welcome new light on two fine sonatas from the 1890s and introduce a recently discovered sonata by a fellow Dutchman. Brahms's cello sonatas, particularly the First, are constantly called to mind in all three major works.
Zemlinsky's A minor Sonata of 1894 receives an especially enriching performance from this poetic partnership. Groeneveld, a member of the Osiris Trio who studied under Natalia Gutman and has taught since 2001 at the Royal Conservatoire in The Hague, plays the turbulent opening movement with passionate conviction and a full-bodied sound, and endows the lovely Allegretto finale with elegance and charm. The Three Pieces, more Schumannesque in mood, are arresting and beautifully characterised.
The Dutch duo are also strong advocates for Dohnányi's 1899 Sonata. Full-throttle playing is required throughout the expansive first movement, with both musicians pushed to their limits, and the spacious recording gives depth and resonance to the sound. Groeneveld executes the delicately hovering spiccato notes in the Mendelssohnian scherzo with precision and grace.
Brucken Fock's E minor Sonata of 1884 was premiered by the duo in 2013. Also reminiscent of Brahms's sonata in the same key, though with a more classical feel than the other two sonatas featured here, it is a less satisfying work, of uneven inspiration.
Janet Banks