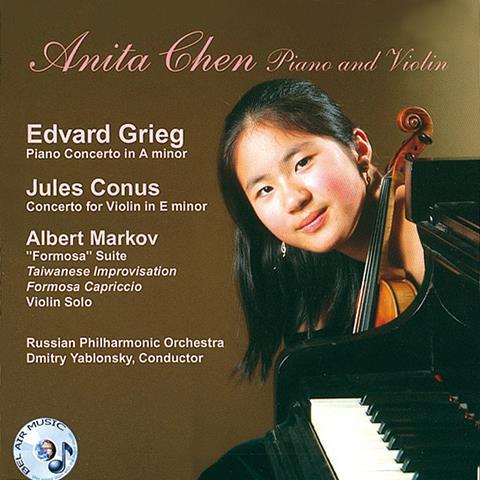 The Strad Issue: January 2006
Musicians: Anita Chen (violin/piano) Russian Philharmonic Orchestra, Dmitry Yablonsky (conductor)
Composer: Conus, Markov, Grieg
Jules Conus's E minor Concerto is rarely performed despite its easy flow of memorable ideas, brilliant solo writing and Tchaikovskian orchestration. Like Glazunov in his delectable A minor Concerto, Conus takes the Mendelssohnian route of running the usual three movements together in one continuous flow, although the solo cadenza falls later than in either the Glazunov or Mendelssohn – just before the final peroration. For many years Heifetz's trailblazing RCA account has held sway, although both Itzhak Perlman (EMI) and the young David Garrett (DG) have also recorded the Conus with distinction. With the best will in the world, Anita Chen does not stand close comparison with these celebrated artists, although her tone is both alluring and sensuous, complemented by the ripely opulent if not always ideally detailed engineering. Whenever Conus turns romantically introspective Chen is in her element, but when the notes start teeming and the high velocity double-stopping starts piling up, things begin to fray a little around the edges.
That said, Chen is on superb form in the two Albert Markov pieces, particularly the Formosa Capriccio, whose sweet melodic writing Chen inflects with a series of subtle tonal shadings. For us mere mortals it seems truly incomprehensible that anyone can play the violin and the piano this well aged just 15, but, particularly bearing in mind her inspirational account of the Grieg Concerto, which exudes confidence in all departments, one can't help feeling that the piano is where her future really lies.
JULIAN HAYLOCK