Ariane Todes reports at the end of this year's ASTA conference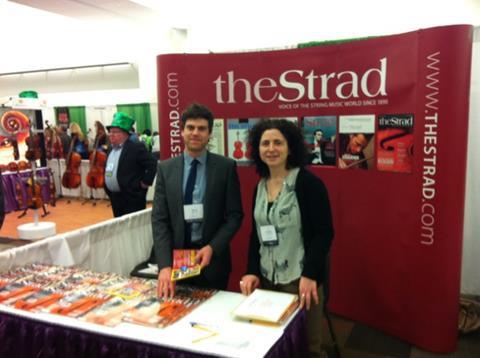 Sessions are over and exhibitors' stands packed up here in the Marriott Hotel Kansas City. String players and teachers are dispersing wearily but happily as another American String Teachers Association conference comes to an end. Four intense days have felt like a week, and it would have taken two weeks to be able to have gone to all the sessions, concerts and discussions on offer. There have been great seminars on subjects ranging from vibrato strategies to advice on setting up string programmes, and the whole event culminated last night with a Vivaldi-infused rock concert with the superbly coiffed Mark Wood and a fabulous guest slot by Rachel Barton-Pine.
The Strad team was out in force. We had our stand in the exhibitors' hall and were able to hand out magazines and meet lots of US readers (and future readers!). It's always such a pleasure to talk to so many highly committed people and hear about the inspiring things that they are doing in the name of string playing. The general buzz in the hall was that business is looking up, and all in all it was certainly one of the best ASTA conferences I've been to. I'm already looking forward to next year's in Atlanta. (Well, I will do when I've recovered from jetlag and have got back to eating healthy food!)
For my full report on the conference, read the May issue of The Strad.
Were you at the conference? What were your highlights?