Committed readings make the case for an Ecuadorian musical polymath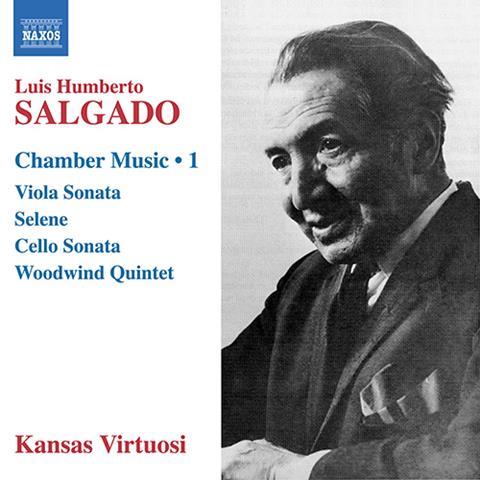 The Strad Issue: March 2023
Description: Committed readings make the case for an Ecuadorian musical polymath
Musicians: Kansas Virtuosi
Works: Salgado: Viola Sonata; Selene; Cello Sonata; Woodwind Quintet
Catalogue number: NAXOS 8 579128
Luis Humberto Salgado (1903–77) was an influential figure in his native Ecuador as a composer, pianist, teacher and writer on music. Although he never left his homeland, he kept abreast of the main musical currents throughout his life, essaying them in his own compositions alongside influences from traditional Ecuadorian music. Calling himself a 'polytechnic' composer, Salgado brought together the pentatonic scales and forceful rhythms of Andean folklore and the free-tonal or atonal harmonies and elements of serialism.
Salgado's Viola Sonata makes for a rousing starter to this well recorded CD. Folk idioms are very much to the fore but fascinatingly clad in refined harmonies. The haunting slow movement includes some intricate unaccompanied double-stopping, and throughout there is passagework that exploits the viola's complete register. Violist Boris Vayner delivers an excitingly assured reading, with Ellen Sommer nicely empathetic at the piano.
Unlike the Viola Sonata, Salgado's Cello Sonata doesn't show folk influences (although a tango-like rhythm does insinuate itself into the first movement); instead, it's written in a Neoclassical style. The work's heart is an impressionistically tinged Andante sostenuto that includes a prolonged cello cadenza, grippingly paced by Hannah Collins. The concluding Allegro giusto features some sophisticated harmonic touches to support a strangely angular melody; its passagework is dispatched by both players with aplomb.
The two pieces for woodwind ensemble present Salgado in a more modernistic mood (Selene's eerie harmonic world was inspired by the first Moon landing) and both receive eloquent readings from the Kansas Virtuosi.
CARLOS MARÍA SOLARE