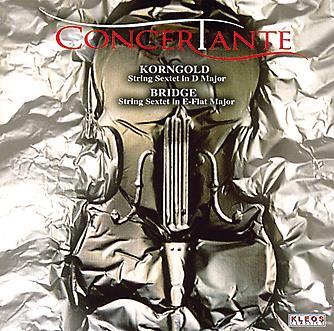 The Strad Issue: January 2007
Musicians: Concertante
Composer: Bridge, Korngold
Composed in 1912, Bridge's three-movement E flat major Sextet shows an effortless grasp of Straussian chromatic harmony, with typically expert writing for the viola, and a formal control that makes light of the structural divisions within each movement. Schoenberg's Verklärte Nacht drifts in and out of the first movement's textures all too noticeably at times, while the second sounds rather like decadent John Ireland, yet so masterly is the string writing that it is difficult not to be swept along in Bridge's wake.
That said, it's a work that in the wrong hands can easily drown the listener in a quagmire of peaty chromaticism, so hats off to Concertante, whose members sustain absolute clarity in even the most densely scored passages. Even they can't quite disguise the music's lack of memorable lyricism – it sounds on occasion like a richly painted background to a principal subject that is only sketchily perceived. Yet so expert and sensitive is their playing and so engagingly opulent the sound that it is impossible on this occasion to declare a clear winner between Concertante and the ripely expressive account by the splendid Raphael Ensemble on Hyperion.
The Raphael also recorded for Hyperion a fine account of the Korngold Sextet coupled (quite logically) with Verklärte Nacht. It's another of those pre-1920 works whose precocious mastery so amazed (and unsettled) Richard Strauss. Like the Bridge, it's a work in search of a really good tune, but so immaculately phrased and technically mellifluous is the Concertante's playing that I can't imagine anyone worrying unduly. An outstanding disc.
JULIAN HAYLOCK