Taking place in September 2017, the contest offers a top prize worth more than $30,000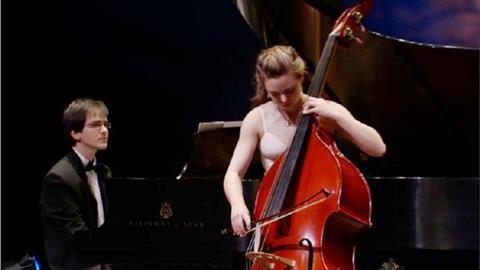 The Second Bradetich Foundation International Double Bass Solo Competition has named the 21 competitors who have been selected via video audition to perform in its live rounds, taking place from 1 to 5 September 2017 at the University of North Texas.
Open to international performers under the age of 35 who have not given a formal New York City debut, the contest offers a top prize worth more than $30,000 – including $10,000 in cash, a New York debut recital at Carnegie Hall, a CD recording, and four years of career development support.
The 21 candidates are:
Joel Braun
Valentina Ciardelli
Nina DeCesare (pictured)
Carlos Navarro Herrera
William Langlie-Miletich
TianYang Liu
Zhixiong Liu
Szymon Marciniak
William McGregor
Mariechen Meyer
Philip Nelson
Chin To (Kelvin) Ng
Aaron Olguin
Marek Romanowski
Ondrej Sejkora
Mikyung Soung
Samuel Suggs
José Trigo
Dominik Wagner
Chunyang Wang
Jianze Zhang
This year's competition will include three live performance rounds, including a final with orchestra, and an interview round with the Board of Directors of the Bradetich Foundation.
The inaugural Bradetich Double Bass Competition was won by current St Petersburg Philharmonic principal double bassist Artem Chirkov.
Visit bradetichfoundation.org for full details.