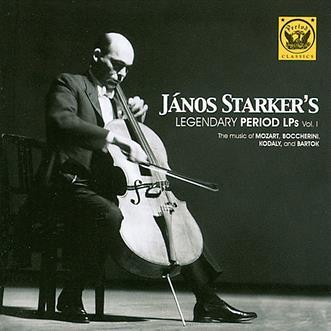 THE STRAD RECOMMENDS
The Strad Issue: January 2007
Musicians: János Starker (cello) Arnold Eidus (violin) Otto Herz (piano) Castle Hill Festival Orchestra, Maximilian Pilzer (conductor)
Composer: Boccherini, Mozart, Kodály, Bartók, Weiner
These recordings, made in New York in the early 1950s, did much to secure for János Starker his international reputation. His account of the Boccherini–Grützmacher concerto is in the grand manner, played with a sonorous tone and imaginative phrasing, particularly in the graceful yet broadly Romantic slow movement. His reading of Alexander Fischer's cello transcription of Mozart's Third Horn Concerto is equally resourceful and characterful in the outer movements and demonstrates a commendably supple sense of line in the Romance. The orchestra offers buoyant support, although intonation and ensemble are occasionally questionable.
Starker shows his true mettle in the Hungarian repertoire and revels in the melodies and rhythms of his native folk music. His volatile, impulsive and perceptive reading of Kodály's Solo Sonata was largely endorsed by the composer, particularly his accounts of the passionate opening movement and the profoundly expressive Adagio. Starker also explores the full gamut of emotions encompassed in Kodály's Duo, with Hungarian violinist Arnold Eidus as his excellent partner. These players interpret the melancholy Adagio in a strikingly flexible and dramatic manner and capture the folk character of the dance-like finale with innate feeling. Starker is equally at home with compatriot pianist Otto Herz in realising with technical assurance and aplomb the flexible rhythms, quasi-improvisatory passages and traditional folk idioms in Kodály's Sonata op.4, Bartók's First Rhapsody and Weiner's Lakodalmas.
The cello dominates the piano in the balance, but these remasterings appear to have eliminated some of the extra-musical noises originally associated with Starker's recordings.
ROBIN STOWELL