The legendary artist was first mentioned in The Strad at the age of eleven following several well-received performances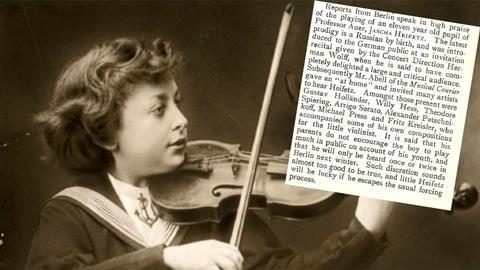 Reports from Berlin speak in high praise of the playing of an eleven year old pupil of Professor Auer, Jascha Heifetz.
The latest prodigy is a Russian by birth, and was introduced to the German public at an invitation recital given by the Concert Director Herman Wolff, when he is said to have completely delighted a large and critical audience.
Subsequently Mr. Abell of the Musical Courier gave an 'at home' and invited many artists to hear Heifetz. Amongst those present were Gustav Hollander, Willy Hess, Theodore Spiering, Arrigo Serato, Alexander Petschnikoff, Michael Press and Fritz Kreisler, who accompanied some of his own compositions for the little violinist.
It is said that his parents do not encourage the boy to play much in public on account of his youth, and that he will only be heard once or twice in Berlin next winter. Such discretion sounds almost too good to be true, and the little violinist will be lucky if he escapes the usual forcing process.