A decade after its founding, Trio Zimmermann has put the string trio back in the spotlight. How does this all-star ensemble function, and can it save the string trio from obscurity? Andrew Mellor went to meet its members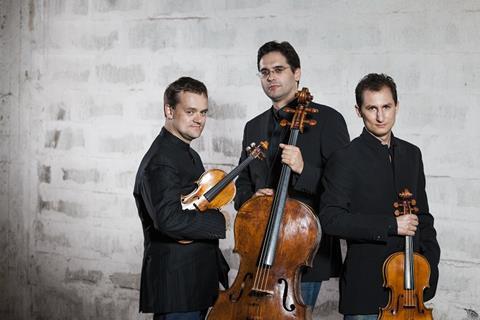 The following is an extract from The Strad's October 2017 issue cover story – to read the full article download the issue on desktop computer or via the The Strad App, or buy the print edition
Ten years ago, violinist Frank Peter Zimmermann realised a long-held dream when his professional string trio gave its inaugural performance. Zimmermann had collaborated with the violist Antoine Tamestit in performances of Mozart's Sinfonia concertante K364 the year before, and soon suspected he had found the middle voice for the trio he had been longing to form. He then consulted Tamestit on the subject of cellists, and the Frenchman proposed Christian Poltéra, an acquaintance of Zimmermann already, via Heinrich Schiff.
All three are much-lauded soloists. But the trio they formed in 2007 has, they say, moulded their individual sounds and styles more than they could have imagined. For the rest of us, Trio Zimmermann has refocused attention on the string trio via a procession of superlative recordings and concert tours. After laying down Mozart and Beethoven trios for BIS, the group has now cut a disc that combines Schoenberg's fearsome String Trio with the two by Paul Hindemith. When I meet the ensemble in Hamburg, it is on the eve of a performance of Bach's Goldberg Variations, which has been in its repertoire for a season.
AM How has the process of forming the trio changed you as musicians?
AT It's very intense. The way the other two work and the way they play always pushes me. I have completely changed my way of practising.
FPZ We all have. I think even my sound, my approach to each note, is different. I used to be so relaxed!
AT The way that we practise is to doubt every decision we make. And once you start on that road, questioning everything, it's very hard. Sometimes you don't even see or hear the results yourselves. But I think this is raising our standards higher in terms of string technique. And the string trio repertoire is pushing us much higher too.
FPZ That's why it is important for us to keep our sound. We have had many offers from great pianists to perform a piano quartet, but I always say to my colleagues that, for me, the biggest joy and the biggest reward is to have no wind player or pianist disturbing us. Sorry!
To read the full article on Trio Zimmermann, download The Strad's October 2017 issue on desktop computer or via the The Strad App, or buy the print edition