In this article from 2016, Toby Deller paid tribute to the pioneering musician and teacher as she celebrated her 70th birthday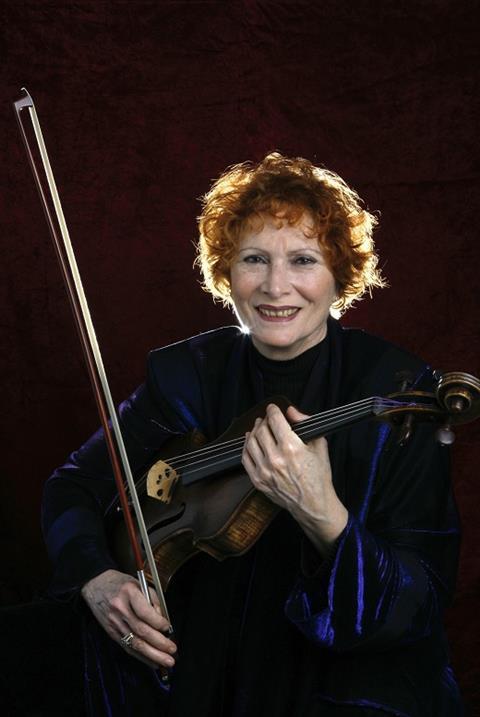 It's a couple of days after her 70th birthday when Rivka Golani welcomes me at her home. Such a milestone offers the perfect opportunity to reflect on a 40-year solo career that has seen an unprecedented number of composers write for her – she has lost track but thinks it comes to around 350 new pieces – and a life that has taken her from Israel to Canada to London.
Golani's professional career began as a member of the Israel Philharmonic Orchestra in the early 1970s. Today, she observes, thanks to fewer openings and greater instability, life is not as rosy for orchestra hopefuls. 'For today's orchestral auditions you have a line-up of 50 people and sometimes you feel that the outcome has been pre-decided. All this politics makes me feel so sad. These musicians put so much into it and they are like potatoes in the market.'
Golani moved to Canada in 1974 to be with her then husband, the luthier Otto Erdesz – she still plays one of his instruments, with its distinctive cutaway upper bout. In Canada she soon developed a reputation for playing contemporary music and her long association with living composers began, although she dismisses the idea of being a niche performer: 'What niche? I made a record of Bach! I always worked on everything.'
Despite her achievements in expanding the viola repertoire, she laments the narrowness of viola music programmed in the concert hall. 'I think even conductors – I say "even", assuming you consider them to be great musicians – know so little about the viola repertoire. Take the Bloch Suite: it's a huge piece and phenomenal with the orchestra. No conductor is interested. Everything is business now. If you don't fill up the hall there is no business, so they fill up the hall whichever way they can.'
Golani's reputation grew internationally throughout the 70s and 80s, although she faced her share of derogatory attitudes. 'After my first recital at Wigmore Hall, someone described me as a witch haunting the audience. They suggested that I should have been a singer rather than a violist - "Too expressive, too many colours, this is like a diva." They really put me down. After that I gave another Wigmore concert and the hall was full – they were all curious to see what the hell I was doing!'
Golani, however, had always been determined to give her instrument a different character from the gloomy or put-upon stereotype. 'When I switched from violin to viola I thought, "I am not going to play a kind of elegy instrument". It's funny because one of the critics in Canada who got to know me more and more as a soloist told me just a few years ago, "I never could understand that a person of your personality plays viola".'
Nowadays, teaching takes up a substantial part of Golani's time, and she is professor of viola at Trinity Laban Conservatoire in London. 'The way I teach – some of course like to joke about it and say it's Suzuki – I ask all the students to attend as many lessons as they can and watch others because I believe that they learn double or triple this way. Also they never become competitive with each other. Sometimes, when I go away on concert tour or whatever, I ask them to work with each other. But I ask them to do this throughout the year as well, even when I'm there. So the class is very united and very supportive of each other. It becomes a bit like a self-contained school – but very open to other students. The door is never shut.'
She points to a viola ensemble set up by four recent students as proof of this collegiality. She has also involved students in her work dedicated to the Blackfoot First Nations people of Canada, most recently at a gala concert at Trinity Laban in the presence of honoured Blackfoot guests. That relationship stretches back a decade to a period when, still a Canadian citizen although long since a London resident, she helped run a music festival in Fort Macleod in Alberta and realised the town lay near the Blackfoot territory.
Although her communal teaching method might suggest a somewhat cultish approach, Golani insists that she is not possessive of her students. 'There are sometimes cases when I feel I cannot teach a person, for one reason or another. Then I say, "Please go to another teacher". Such students are not necessarily untalented players. Sometimes they are very bright, but I know that they wouldn't do what I ask them, or they try to argue and I know we could not work properly together, so I genuinely ask them to work with somebody else. I don't always see other teachers doing that. I always said I would rather wash dishes for my living than not at least try to do the best with a student.'
So she does have firm ideas about technical training? 'I believe very much, and this I learned from my own experience, that specific exercises are necessary. It's like developing your body for any field of athletics – it requires an endless variety of set exercises. The principle is the same: to be as strong as possible and as flexible as possible at the same time.'
She also believes that as people develop in different ways, care must be taken in the early stages. 'I don't like it if somebody is very young and everybody's jumping up and down [about them] because we don't know what it is they are going to face growing up. You can't just decide "this is it!" when somebody is nine years old. It's not the right way to go.'
But while technique and strength can be developed, says Golani, musicianship is another matter. 'Nobody can put talent into you. The technical side I believe all can learn. But the beauty is to connect the technique with the music, just as for a certain phrase you choose a certain fingering. A change of position should not be ever a problem, so how do you get to a point where the whole length of the string is like an ice rink where you can dance anywhere with ease?'
Read: The viola should sound like a human voice, says Nokuko Imai
Read: Today's string players forget they are telling a story, says cellist Raphael Wallfisch