Open to applicants aged 21 or under, the contest is due to take place next year at the UK's Birmingham Conservatoire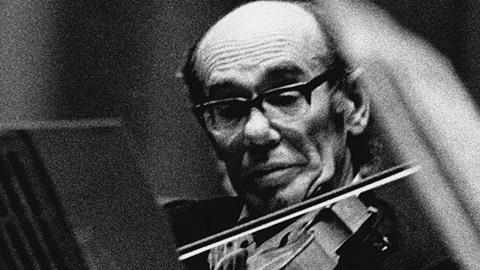 The second Cecil Aronowitz Viola Competition, due to take place next year at Birmingham Conservatoire's newly constructed £57m home, is currently inviting applications from international violists at the age of 21 or under at the time of the competition.
Running from 18 to 24 November 2017 in Birmingham, UK, the competition offers a top prize of £5,000, a recording contract with Champs Hill Records, and an award in collaboration with the City of Birmingham Symphony Orchestra. The contest is hosted in conjunction with the British Viola Society and Birmingham Music Service, and named after acclaimed South African violist, Cecil Aronowitz (pictured).
Organisers are also planning a series of workshops, masterclasses, recitals and exhibitions to run alongside the competition, involving Birmingham school children, conservatoire students, jury members and luthiers.
The inaugural Cecil Aronowitz International Viola Competition in 2014 was won by 19-year-old Timothy Ridout, a student at London's Royal Academy of Music, who earlier this year also went on to win the Lionel Tertis International Viola Competition.
Applications for next year's contest close on 31 March 2017. For full details and to apply visit the Birmingham Conservatoire website.