Erik Christian Peterson and Emily Ondracek-Peterson - co-artistic directors of the Crested Butte Music Festival and members of the Voxare String Quartet - share five attributes presenters look for when booking musicians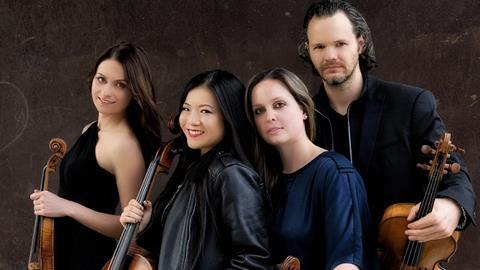 This autumn, we were entrusted with shaping the artistic direction of a major music festival - the Crested Butte Music Festival in Colorado.
Once on board as co-artistic directors, our first pressing matter was planning the upcoming seven-week season (taking place this summer). This included guest-artist booking, and expanding our educational offerings to include a week-long Chamber Music Intensive for amateur musicians, and an Orchestral Fellows Program, which invites auditioned high-level early-career orchestral musicians to Crested Butte to perform alongside the professional musicians of CBMF's Symphony Orchestra.
As members of the Voxare String Quartet (pictured) we have played hundreds of concerts and have extensive experience working with presenters. Now on the other side of the table, we are consistently finding ourselves drawn to artists with specific traits; we've concluded that many presenters are looking for similar attributes. Below is a summary of some of those characteristics possessed by attractive artists.
5 attributes presenters look for when selecting artists:
Outstanding artistry
This, of course, is a given. The takeaway here is that artists need vehicles for displaying that artistry. Musicians need press kit materials that can quickly articulate their merits. Video is increasingly important; professional, well-executed videos can quickly convey a performer's musicianship and personality.
Creative programming
There are two sides to this coin. First, does the artist or ensemble offer compelling repertoire beyond the usual concert fare? Are new or seldom-heard works presented in a logical context? Are familiar pieces presented in a way that provides fresh contextual understanding? And, are these programmes saleable to audiences? (Naturally, the answer to this question varies by organisation as patrons have various proclivities; what is common on one series might not be accepted at another.) FYI– the formulaic classical–contemporary–romantic programme is not creative programming. Second, is the artist easy to work with and flexible? For example, might he or she be open to creating a programme that fits within the organisation's season-wide theme?
Energy
While audience members attend concerts for many reasons, above all they want be moved and to be entertained; they respond to high-voltage performers. Press kits should display that energy, from photos to videos to bio to website.
Personable with audiences and donors
Is this someone with whom the audience will have a personal connection? Is the artist articulate and passionate? Will audience members enjoy meeting the artist at the post-concert reception?
Strong social media presence
Like it or not, having an active and robust social media presence is of high importance for securing concerts. With a wide following, it's possible that an ensemble will bring with it new audience members and draw additional media attention. Also, organisations can gain from an artist who will promote the concert on various platforms outside of its own network.
Learn more about the Crested Butte Music Festival, 23 June - 5 August 2017