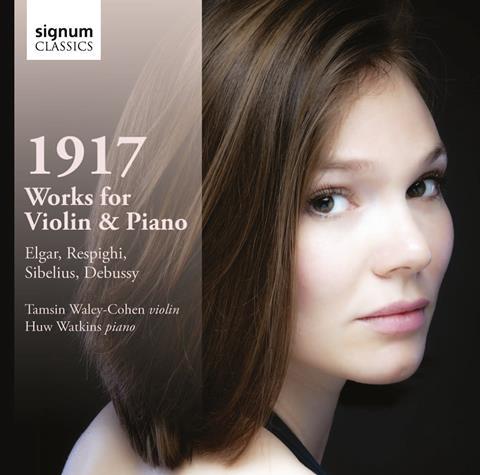 THE STRAD RECOMMENDS
The Strad Issue: January 2014
Description: An enterprising collection capturing a year in music
Musicians: Tamsin Waley-Cohen (violin) Huw Watkins (piano)
Composer: Respighi, Sibelius, Elgar
Chronology is as good an excuse as any to collect some fine music together, and these pieces make an attractive set. Tamsin Waley-Cohen approaches Debussy with delicacy and a sense of wonder, performing parts of the first movement as if afraid it might be fragile. The composer distributes tempo adjustments liberally through the second movement, and the duo responds with liquid flexibility of tempo, musing, halting, pressing forward. The scherzando passage is wonderfully dry, with a touch of comedy. The finale has plenty of vitality, but without the helter-skelter rapidity of some – the players have evidently taken note of the metronome markings, and Debussy's get-faster indications are tellingly observed. This is a performance of colour and personality.
The young Respighi sounds rather older than Debussy in his B minor Sonata, firmly rooted in the Brahmsian past. Waley-Cohen maintains a fluent, occasionally impassioned cantilena through the first two movements, particularly in the Poco più mosso section of the second, before launching into the final Passacaglia with an impressive display of emotional power and muscularity. She is elegant and suave in Sibelius's Five Pieces op.81, with some earthy dancing in the opening Mazurka and grace in the final Menuetto.
There is power in the first movement of Elgar's Sonata, but the espressivo arpeggio passages have an intimacy that carries through into the second movement. The third, while strong where Elgar demands it, is often gentle. Huw Watkins is superb throughout, and the recorded balance between the players is excellent.
Clip: Sibelius Mazurka from Five Pieces op.81
TIM HOMFRAY