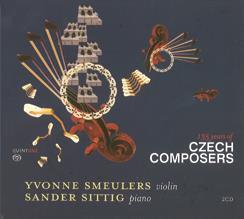 The Strad Issue: January 2012
Description: A generally successful survey of Czech violin repertoire
Musicians: Yvonne Smeulers (violin) Sander Sittig (piano)
Composer: Smetana, Dvorák, Fibich, Nová?ek, Janácek, Schulhoff, Martinu & Suk
As anyone who has seen her play will testify, Yvonne Smeulers is a born performer who immerses herself fully in whatever she is doing. She possesses a relatively small-scale, jewelled sound and plays with beguiling phrasal suppleness and subtlety, particularly around the lower end of the dynamic spectrum. Her reflective intimacy works especially well in these chamber-scale pieces, and the recording captures her velvety sound perfectly, although the piano is recessed to the point that it sounds as if her fine accompanist Sander Sittig is sitting some distance away.
The poetic introspection of Dvo?ák's Four Romantic Pieces finds a near-ideal interpreter in Smeulers. The lyrical cantabile of the opening movement soars gently, as though on warm currents of air, while the more dramatic moments avoid any hint of concert-hall projection. The palpable sense of Smeulers playing to us in our own living room is enhanced by exquisitely gentle accounts of Dvo?ák's evergreen Sonatina, Smetana's two-movement From My Homeland and Fibich's heartwarming Poem. That said, some may find Smeulers's relatively calm and unruffled approach to Nová?ek's Perpetuum mobile a shade underpowered in comparison with, say, Itzhak Perlman or Henryk Szeryng.
Smeulers really comes into her own in Janá?ek's Sonata, whose neurotic changeability and elusive gesturing she embraces with alacrity. So too Erwin Schulhoff's solo Sonata, whose often delicate tracery she inflects with playful grace and charm. Martinu's Five Madrigal Stanzas and Suk's Four Pieces, particularly the latter's Burleska finale, refreshingly exchange rhetorical bluster for gentle musing.



JULIAN HAYLOCK