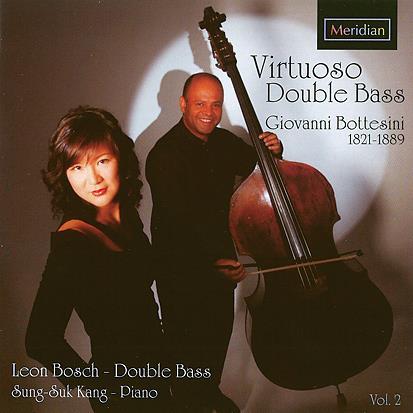 THE STRAD RECOMMENDS
The Strad Issue: January 2010
Musicians: Leon Bosch (double bass) Sung-Suk Kang (piano)
Composer: Bottesini
Leon Bosch demonstrates a natural affinity with?Bottesini's bravura style. His performances combine sonorous, lyrical,?exquisitely nuanced playing with?a?remarkable command of the instrument's?bravura potential.
Bosch interprets four of Bottesini's opera fantasias with drama, poetry and panache. His left-hand facility rarely falters, his harmonics are crystal clear, and he demonstrates absolute mastery of the bow. His rubato in 'Casta diva' and the poignant 'Teneri, teneri figli' (Bellini's Norma) and his characterisation of the sextet 'Chi mi frena in tal momento' (Donizetti's Lucia di Lammermoor) are especially effective, and he dispatches the variations on 'D'un pensiero' (Bellini's?La sonnambula) with striking flair and imagination.
Bosch performs Bottesini's transcriptions of arias by Rossini, Verdi and Donizetti with expansive lyricism, and he negotiates the perilous harmonics in the Final de la Somnambule with adept athleticism. His stylish, thoroughly committed accounts of the balletic Fantasia Cerrito and the 'Nel cor più' variations are well contrasted in mood and character, and the poignant, lyrical lines of Melodia nos.2 and 4 and the Nocturne are intelligently shaped.
The recording is vivid and true. Sung-Suk Kang provides sympathetically pliant and characterful support throughout, even if she fails to match Bosch's extroversion when assuming a solo role.



ROBIN STOWELL