Stephen Street reviews one of the first works in English on the great 19th-century double bassist Giovanni Bottesini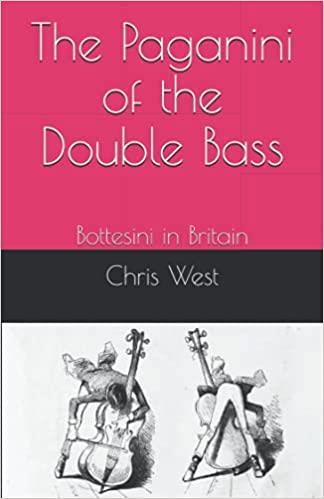 The Paganini of the Double Bass: Bottesini in Britain
Chris West
280PP ISBN 9798747194595
Amazon Independent Publishing £12.99
Looking into the life of Giovanni Bottesini is much like stepping into a Narnia of 19th-century music. The fickleness of history seems to have somehow overlooked the double bassist, composer and conductor despite him having been a household name in his time. Chris West's book highlights Bottesini's importance to the development of the music scene in the UK, and that of the Romantic period; at one point he was the most famous musician of his era. The book will also appeal to anyone interested in the music of that era, as it opens a door to Bottesini's myriad personal perspectives and relationships with all the greats of his time, giving us a much more detailed insight to the workings of the industry. It highlights the musician's vast (but mostly unknown) composition catalogue and his ambitions to be respected as a composer and conductor, not just as a bass virtuoso. Bottesini often found that his compositions, rather than being of lesser quality than those of his contemporaries, were simply victims of circumstance; and the overwhelming demand for him to be heard as a soloist meant his time available to compose was limited.
It is clear the author has written this book based on his deep knowledge and experience of opera (Bottesini's main output as a composer) within the wider context of UK music history. West manages to connect the network of related people who surrounded Bottesini during his time in Britain, and who influenced his career at various stages. Although it can be a little hard to keep track of all the people that came and went in Bottesini's life, I am very grateful to have the information together in one accessible place.
Among the most important features of this book are the many new discoveries made by West in his research. He dispels many of the myths that have been repeated previously about Bottesini's life. These have mostly been made on assumptions, inaccurate recollections or simply made up, being taken as fact after being repeated ad infinitum over the years and appearing in anything from articles to doctoral theses. The book also presents rediscovered works by Bottesini and previously unpublished information on his marriages and personal life, and expands on West's research into the origin of the Promenade concerts in London, with Bottesini first appearing in 1851.
Unlike previous volumes on Bottesini, this book is written in English, which opens up the information to readers worldwide. Until now this has always been something of a hurdle for researchers. West also gives a fascinating insight into the virtuoso's life thanks to the detailed concert listings and updated catalogue of works, making research much easier. I hope this book creates a furore among enthusiasts and music lovers alike, and rekindles a long overdue interest in Bottesini's life. Its publication complements his 200th birthday celebrations perfectly.
STEPHEN STREET